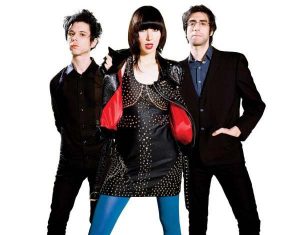 1) Yeah Yeah Yeahs It's Blitz! (Interscope)
Karen O and company deliver their most accessible punk-tipped offering to date, complete with a new found dance-floor sensibility. But even with the widening of their sonic palette, the group retain their gustsy charisma and raucous overtones.
2) Black Eyed Peas The E.N.D. (Interscope)
Quite possibly the best pop album of the decade, this multi-cultural foursome hits a career high with plenty of infectious dance ditties. Adding in flourishes of hip-hop, rap, and soul makes puts the Peas dead center on the pulse of current club culture.
3) Morrissey Years Of Refusal (Lost Highway/Attack)
He may have been more famous as the lead singer of The Smiths, but this disc is by far his best offering since the band broke up. Searing guitars, melancholy lyrics, and unmistakable vocal delivery put Moz in a monumental category of his own.
4) U2 No Line On the Horizon (Interscope)
Consider this collection to be the post-millennial sequel to 1991's groundbreaking Achtung Baby. Meant to be heard from start to finish, the disc may be short on singles, but holds up unflinchingly when consumed in full.
5) Fischerspooner Entertainment (FS Studios/ World's Fair)
The second coming of electronica belongs to this theatrical troupe, who follow in the footsteps of Kraftwerk, Depeche Mode, and Pet Shop Boys. Much of this album's delight stems from the unabashed ear-candy appeal, loaded with sugary synths and decadent themes.
6) Franz Ferdinand Tonight: Franz Ferdinand (Domino)
This third project may have slipped through the cracks considering its early winter release, but it's nonetheless an impressively varied album for the Scot-rockers. Rather than repacking the same old garage-rock affair, the lads kick up the dance grooves and jam in the bluesy, psychedelic style.
7) The Flaming Lips Embryonic (Warner Bros.)
If aliens really exist, they very well could be the members of The Flaming Lips, who continue to focus on otherworldly excess. It's a formula that's been tried before, but Wayne Coyne and his cohorts continue to up the experimental ante.
8) Depeche Mode Sounds Of The Universe (Mute/Capitol/Virgin)
The trio may comprise old timers, but this disc hearkens back to its Violator prime. Along the way, it also shows younger audiences how The Killers, The Bravery, and all the like-minded wannabes forged their sound.
9) Glasvegas Glasvegas (Columbia)
These Glasgow newcomers accumulated endless buzz, but this self-titled debut more than earned the hype. Consider the anthemic foursome to take a current crack at U2, Oasis, and its stadium-shaking peers.
10) Cracker Sunrise In The Land Of Milk And Honey (429)
One of the most respected alternative rock acts dusts this comeback collection of sorts with some insurgent country that's among its finest to date. Witty songwriting, sharp riffs, and vibrant chemistry are just a few of its endearing traits.