The Ladder
(1L)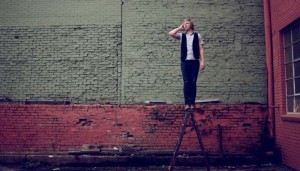 Of the nickel advice we dole out to young bands, a stalwart is "if you're going to release music, you better be able to handle people not liking it." A lot of people might end up enjoying Andrew Belle's The Ladder, but an equal number will look to light up message boards in his effigy.
Appearing: Saturday, January 23rd at Schubas in Chicago.
First, there's a lot to take pride in. Despite having an attractive, somewhat grainy set of pipes, he's never showy with it or backing you into a corner at sincere-as-hell knifepoint like many singer/songwriters. The album might keep within a relatively confined rhythmic and dynamic range, but plays smartly within its boundaries. The title track nods to My Morning Jacket and Fleet Foxes without lowering to mimicry, while the drafting of Katie Herzig to make "Static Waves" a duet is a masterstroke. The song, reminiscent of Sondre Lerche's "Modern Nature," is cute without cloying and bears an irrepressible melody. When it comes time to crescendo on "Don't Blame Yourself," he brings the symphony in and out teasingly before ending his rapture in less than four minutes.
Unfortunately, the elephant in the room is Coldplay. Belle's voice can be such a dead ringer for Chris Martin — it even fancies a falsetto now and again — and, as an professed admirer of Adam Duritz, carries such a burden with it you begin to wonder where the fun of "Static Waves" went. Combined with the last three cuts (on a 10-track outing) averaging five minutes, he risks sinking all the goodwill won at the opening.
5
— Steve Forstneger