Double Door, Chicago
Saturday, December 19, 2009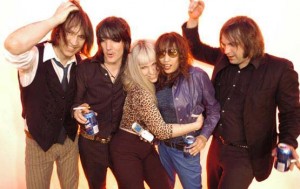 The most recent benefit in a city- and label-wide effort to rehab Scotland Yard Gospel Choir pits Bloodshot Records' alumni The Detroit Cobras, Dex Romweber Duo, and The Blacks together.
If you've been out of the area, you might not know SYGC's van flipped in Indiana, causing severe injuries to two members. Since then, local bands have rushed to their aid with concerts to help pay medical bills and replace equipment.
This latest showdown features Motown's Detroit Cobras, who originate from the same label (Sympathy For The Record Industry) that eventually took a chance on The White Stripes. Their beastly garage rock is something of an anomaly, however, because its frontpersons are both women. Appropriately, singer Rachel Nagy and guitarist Mary Ramirez look and sound like you're about to get stuck by a shiv fashioned in prison out of a metal ruler. No mere window dressing, the stench of their primal rock is from the pile of former (male) bandmates who haven't been able to keep up.
Former Flat Duo Jets singer Dex Romweber might be feeling guilty as a native Indianan; his Duo now features sister Sara on drums to make ramshackle rockabilly fit for Bloodshot. The reunited Blacks and California Clipper staple Lawrence Peters open.
— Steve Forstneger
Category: Stage Buzz, Weekly