Radio Ceiling Crasher Says Not Much Has Changed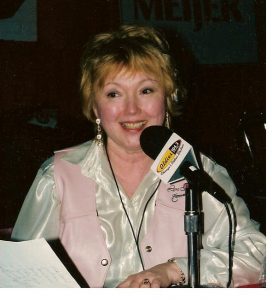 Groundbreaking radio personality Connie Szerszen wrote her new memoir, Top Rock Girly Jock: A Chicago Radio First, four years ago, when she was still an on-air personality at oldies station WJMK-FM. "It had a happier ending in the first draft," admits the Chicago native, who, along with the rest of the staff, was replaced by the automated "Jack" format and put out to pasture at the short-lived WJMK HD2 in 2005. There, she became the first woman in America to broadcast live on an all-digital station.
It was a far cry from her original claim to fame: becoming the nation's first female announcer to have a prime-time, major-market AM radio show, as a DJ at WIND-AM in the early 1970s. "WIND had a personality radio format, so 'shtick' was encouraged," recalls Szerszen, who invented "Strip Radio" after her program director told her to sound sexier to attract more male listeners. Not that she was comfortable with it. "Every time I did something sexy, it was pretty much a parody," says Szerszen, who did the bit at the end of her Friday show. "With each song that aired, I'd instruct the listener to remove an article of clothing," she says, noting that songs were shorter back then.
"Just about the time I'd get to the undies, I'd make sure it was my last song, and usually teased — 'Well, now I'm taking off . . . See ya next week!'"
The portrait artist and wedding DJ's exciting career included a date with Neil Diamond, meeting Elvis and other celebrities, and going head-to-head with Oprah Winfrey to host "AM Chicago." It's documented in engaging prose — along with over 200 photos — in the book. "The best part about writing an autobiography is that you get to see the big picture," says Szerszen, who published the book herself.
"The other best part is that I could credit my family for all they had done with their lives. I hoped readers would glean from my story, the fact that everyone has gifts."
Sadly, not much has changed since she broke barriers in the male-dominated world of radio. "There's still a predominance of male voices playing music, whereas positions in news and traffic are still more available to women."
Autographed copies are available at Toprockgirlyjock.com.
NEW MODELS FOR LOCAL NEWS COVERAGE: On November 20th, the Chicago News Cooperative began supplying two pages of local coverage twice a week to the local edition of the New York Times. With startup money from public TV station WTTW and the John D. & Catherine T. MacArthur Foundation, the nonprofit is headed by editor James E. O'Shea, the former Chicago Tribune managing editor and the former editor of the Los Angeles Times, who was pushed out last year after refusing to carry out newsroom budget cuts. The advisory board includes journalist and Public Affairs books founder Peter Osnos and former Tribune editor Ann Marie Lipinski. Former Tribune managing editor James Warren writes a regular column (in addition to his duties as the recently named publisher of the beleaguered Chicago Reader).
This summer, Chi-Town Daily News editor and founder Jeff Dougherty and his staff shut down the local online venture to launch the Chicago Current, a public-affairs journal with both an online presence and monthly print edition. Based on publications such as Roll Call and New York's City Hall, the for-profit will have "an intensely Chicago focus."
According to the tagline, "Chicago Current targets government insiders, political junkies, and others who are passionate about government, politics, and public policy in Chicago."
With angel investors providing startup costs, the venture will rely on advertising dollars from the print publication. According to Dougherty, niche print periodicals still command high ad rates.
Dougherty tried to hire former Sun-Times media critic Robert Feder — but he'd already been snapped up by Chicago Public Radio's Vocalo.org, where his daily column appears at blogs.vocalo.org.
One expects radio, TV, and Internet news sites to begin mining these new organizations for their news stories — whereas in the old days, they'd turn to newspapers. After all, it's a lot easier than doing your own legwork.
ODDS N SODS: Kudos to venerable V-103 DJ "Cool Gent" Herb Kent for his entry into the Guinness Book Of World Records for "having the longest career by a DJ in radio history." The 81-year-old Kent — who has spent 65 years spinning dusties and recently co-wrote The Cool Gent: The Nine Lives Of Radio Legend Herb Kent — will receive the award December 5th at the South Shore Cultural Center in a benefit for the Real Men Cook charities; the roast will be co-hosted by Mayor Daley and Governor Quinn, who've designated December 5th Herb Kent Day. For more, visit www.realmencook.com/Roast.html . . . Those who live outside Pilsen can now hear the Latino Public Radio station Radio Arte WRTE-FM (90.5) on Vocalo's secondary HD signal 89.5-2HD2 and on their i-devices using the free app "Public Radio Tuner," at "Radio Arte Illinois." Details at Wrte.org . . . The Cook County State's Attorney's attempts to subpoena the grades, e-mails, and other information about students investigating the case of Anthony McKinney as part of Northwestern University's Medill Innocence Project is more than alarming. The group's work has helped lead to the release of some 31 death-row inmates for wrongful convictions, and earned a new day in court for McKinney, who was convicted of fatally shooting a security guard in 1978. Northwestern is fighting the subpoena; visit www.medillinnocenceproject.org for the latest.
— Cara Jepsen