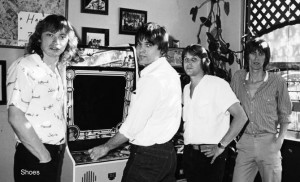 What does it mean to "make it"? Reality TV and the Internet have mangled the notion of fame, with everyone allowed at least 15 megabytes of it. In music it's as difficult, maybe even much harder to define. How do you quantify success? Some artists call it Top 10 singles and headlining tours. In the "underground," you might call it pervasive influence. Under the former, Chicagoland has had The Impressions, Styx, and Smashing Pumpkins. The latter lists Magic Sam, The Jesus Lizard, and Califone.
The following is an attempt to corral the bands who didn't make it big in their respective milieus, for whatever reason. Don't ask us what the criteria were. (And it isn't meant to be backhanded praise.) How come we omit Holland and Smoking Popes, but include Eleventh Dream Day and The Redwalls? For many our choices, their local repuatations were unimpeachable. None of them, however, became the national or mail-order juggernauts their stories seemed to foretell.
In honor of Dean Milano's recently released The Chicago Music Scene: 1960s And 1970s (Arcadia), we've left those decades to him. (The photos in that book will throw you back even if you weren't there.) Since 1980, however, this is what we've come up with:
ASSASSINS
Each year the Mobfest ad lists them next to Rachael Yamagata and Disturbed as artists who benefitted from a showcase. One of former Editor Althea Legaspi's missions in life was to feature them with a cover story when their major-label debut arrived. When.
Even though it eventually was released independently, Chicago is still waiting on Assassins. "We didn't stall so much as run headfirst into a brickwall," says Dave Golitko, writing from Germany. "We had finished our debut record for Arista and were gearing up to go on tour — starting with a few shows opening for N.E.R.D. — when our label situation crumbled beneath us. We had the privilege of being in a position of having the very genuine support of the label staff, and most importantly the president at the time, L.A. Reid, which meant that we had very concrete resources at our disposal to break the band nationally. Naturally, the only thing that could go wrong did go wrong when BMG essentially dismantled Arista. They wouldn't let us leave, since they had just invested fairly heavily in the record, but didn't know what to do with it themselves, since all of the Arista staff who had any clue what we were up to had been let go."
His view is pragmatic. "We were very thorough in our decision making and planning. Alas, you can't eliminate risk altogether, especially in such a turbulent industry as music . . . We had all been in other more or less successfull bands before Assassins, so we did a good job of keeping our heads on straight — even in the best times, we knew that the really hard work was still ahead of us. That said, it will always feel a bit like unfinished business."
ELEVENTH DREAM DAY
It doesn't make sense to accuse Eleventh Dream Day of not "making it," because that was never really the point. Sure, they signed to Atlantic in the late '80s, but that whole episode almost seems like a dare for both sides.
"After our El Moodio record for Atlantic in the early '90s, we made the decision to drop out," says Rick Rizzo. "I realized that my son needed a more stable existence . . . so, while the frenzy was heating up, I was going back to school to get a teaching certificate. It was a total relief to keep playing for pure enjoyment without worrying about 'making it.'"
Nevertheless, there's a sense EDD are underappreciated. IE's Patrick Conlan suggested their reputation should be more on par with Yo La Tengo. "We made records together that we're proud of that I think hold up pretty well over time and stayed true to who we were and didn't compromise. Our major-label records stand up artistically to our indie records. We stayed together as a band — minus a guitarist — for what is going on 25 years. I got to see most of the U.S.A. and Europe in a way that I'll never forget and still have fans all over the world. I really couldn't ask for anything more."
THE ELVIS BROTHERS
The Elvis Brothers had quite an impact for a trio who initially came together just to have fun.
"We always said that if we were thinking of being a serious band to pursue a record deal, we never would have named ourselves The Elvis Brothers," drummer Brad Elvis recalls in a recent e-mail.
Graham Elvis notes, "We had great songs with memorable hooks that the people loved."
Movin' Up, their 1983 debut on Portrait/Sony offered revved-up songs that blended rockabilly and power pop. The band was actively promoted by Portrait and filmed a video of "Fire In The City."
"I remember witnessing the power of video when we would play a city that we had never played before, and the audience would be cheering [during] 'Fire In The City' because they had seen the video on MTV," Brad says.
By the time The Elvis Brothers released Adventure Time in 1985, Portrait was in too much turmoil to fund any videos. The label folded a short time later.
Brad now performs with The Handcuffs, and according to Graham — who continues to perform solo — there are no plans for another reunion. "Some things are better left in our memories," he notes.
— Terrence Flamm
HEAVY MANNERS
The country must prefer that its island music come from islands like Jamaica and Great Britain, because we can't see any reason why Heavy Manners weren't superstars. Ska, punk, and reggae is as novel a mixture as neopolitan ice cream these days, but in the early '80s only one Chicago band had the hang of it.
"We recorded tracks with reggae legend Peter Tosh [with] Donald Kinzie producing," recalls Hillel Frankel (a.k.a. Frankie Hill), "who were at the peak of their careers with Peter's Mama Africa album. He sang background vocals on a Heavy Manners track at Chicago Recording Company. We were looking for a bigger record deal to materialize but it never did. We hit the top of the Chicago scene around 1983 and were selling out shows and making very good money [and] held that peak for about a year, opening for many great '80s artists and selling out the Park West twice, but then it began to slip. Hard to hold it without breaking nationally."
Still, he remains proud — even prouder to be reuniting. "We brought black and white punks and Rastas together in a music scene that was pretty segregated at the time. We have a new song by Kate Fagen called 'Get Me Out Of Debt' coming out in 2010. First new track recorded by Heavy Manners in over 20 years!"
SHOES
"We were on the leading edge of the whole D.I.Y. movement that really took hold in the late '70s," vocalist/guitarist Jeff Murphy recalls. By the time Elektra signed the band, Shoes had already self-released Black Vinyl Shoes to considerable success, and had a single on the Bomp indie label.
Elektra hyped Shoes' major-label debut, Present Tense, with a publicity barrage and produced videos for the European market. But Murphy feels the label confused radio programmers by issuing four singles almost simultaneously. MTV wanted fresh material when the second LP, Tongue Twister, dropped, but Elektra brushed the requests aside, believing rock videos were a passing fad. Shortly after the release of Boomerang, the label went through a reorganization, and Shoes were dropped.
"We simply went back to doing things on our own, like we did before Elektra showed up," he writes. "We built our own commercial recording studio, re-instituted our label, Black Vinyl Records, and started issuing CDs, which we continue to do today." With classic songs like "Tomorrow Night" and "Too Late," Shoes are still regarded as innovators and masters of power pop.
"Whether or not we were 'ahead of our time' in some ways is determined more in hindsight by others," Murphy reflects. "We just want to fit in somewhere in music history."
— Terrence Flamm
TRIPLEFASTACTION
A lot of Chicago bands were vacuumed up in a post-Nirvana signing binge that introduced a mythic, utopian, new-Seattle called Wicker Park. Unfortunately, two albums was the norm for a chunk of these outfits though, talent per dollar, Triplefastaction got a pretty raw deal. Despite a Capitol Records insignia on their Broadcaster debut, they got little promotional support; were on an indie within a year; and ceased to exist by 1998.
Frontman Wes Kidd isn't bitter. "I had a blast, traveled all over, and met a ton of people, made some lifelong friends and a bunch of business acquaintances." Musically? "Who knows? I don't think I know what a musical accomplishment is. I loved writing, practicing, recording, and playing shows. Sometimes, if I couldn't write, I would clean the practice space just because I liked being there."
Like more bands should, Kidd knew when time was up. "I was wearing a garbage bag as a dress, after a show, in a hotel room, with the Smoking Popes and Menthol, dancing to Van Halen, and it was way more fun than the show we just did."
ALUMINUM GROUP
Much the way a laid-back athlete can be blasted for not having an appropriate game face, Aluminum Group's effortless melodies might lead you to believe they don't want to be successful. Favorably compared to their Sea And Cake neighbors, the AG actually sprang out of an '80s hardcore punk band before settling on sumptuous soft pop. Pedals remains the class of (post-Veruca Salt) Minty Fresh Records, a label that mirrors their attitude — or lack thereof.
BOHEMIA
Bohemia, fronted by the charismatic Carla Evonne, never did snag a major-label contract, but from 1980 through 1984 released a lot of good music on a series of independent labels. A self-titled 10-inch offered the classic punk rock of "Unconventional Boy" and "American Life," and the band added elements of jazz to its full-length debut, Deviations, via Fast Frank's saxophone playing. Songs like "Plastic Doll" and "Standard Deviation" underscored Bohemia's fascination with the dark and perverse, while "State Of Affairs" took more of a political stance. The band later released the 12-inch singles "No Ordinary Moon" and "All The Way" on their own Discos De Tinga label. Evonne and her mates came together for a one-night-only reunion at The Cubby Bear in 1991 that showed they hadn't lost a bit of the infectious energy that had always made their live performances so mesmerizing. Sadly, none of the Bohemia catalog has made the transition to CDs, but at least some of the band's cuts, like the highly entertaining "I Wanna Cigarette," can be viewed on You Tube.
— Terrence Flamm
THE CHANGES
Generally when we feature a local with a story in IE, we wait until there's an album out, preferably on a label — in hopes we're getting someone established and invested. An exception was made for The Changes; Lollapalooza felt the same way, making them the only unsigned act to play in 2005. Their brand of buoyant, atmospheric indie pop fed addictive tracks like "Her, You And I" and "When I Wake" and evolved into a surprisingly low-profile debut album. Now? Solo shows here and there.
CRUCIAL CONFLICT
Crucial Conflict never got their "Slow Jamz." While Twista's toil in a blizzard of broken music-industry promises was repaid handsomely, these West Siders lit up the joint with "Hay" in '96, but haven't been able to do much since. Partly undercut by Bone Thugs comparisons and alone with their "rodeo" palette of sounds, their second album passed without notice and they spent the next decade in limbo. Even 2008's Planet Crucon failed to make much of a comeback, idling on Amazon.com with a scant three reviews.
HUM
Hum's inclusion is bound to give people fits, but to the rest of the country they're a one-hit-wonder. "Stars" remains a helluva song, but this Champaign-Urbana beast's two major-label albums are each nine-songs deep. Their riffing was maybe too metal for post-grunge fist-bumpers, and their appearance and soft dynamics certainly ruled them out of the Pantera set. For a brief spell they were undoubtedly the kings of an amazing downstate scene (Sarge, Menthol, Poster Children, Wolfie, Braid), however; rumors of a reunion were scotched, but if they reconsider, we'll be there holding daisies.
THE INSIDERS
Ironically, The Insiders had no behind-the-scenes leverage to get what was theirs. After selling 100,000 copies of 1987's Tom Petty-esque debut, Ghost On The Beach, internal wrangling at Epic left them unable to release their followup until they did it on their own — four years later, when all the air was out of their tires. Major-label politics have felled many a career: sometimes justifiably, others — like this one — maddeningly.
OFF BROADWAY
They had a beat, they had a good good beat, they had a good beat. By 1979, Off Broadway had conquered the Chicago club scene, with every venue becoming a playground for vocalist Cliff Johnson. He offered aftershave to audience members, told jokes, went for a beer run in the middle of a song (usually "Hang On For Love"), and generally had a blast. Off Broadway brought that ambience to its major debut on Atlantic, On, with classic songs like "Bad Indication" and "Bully Bully." The label dropped the band shortly after their second album, but, undaunted, Off Broadway kept going and remains a potent live act. Johnson and other members of Off Broadway joined forces with Mimi Betinis and some of his Pezband mates in the early '90s under the name Black And Blonde. Reportedly, Off Broadway's December 2009 show at Fitzgerald's was Johnson's swan song. He'll release his solo debut early this year.
PRICE OF PRIESTHOOD
They would have been better coming from London's Batcave scene: an auspicious, Chicago-based funk/goth band who weren't exactly major-label catnip in the late '80s. Still, Price Of Priesthood had all the tools: dark, yet catchy hooks, pithy lyrics, and cachet among the Windy City's young promoters: Jeff Kwatinetz, Metro's Joe Shanahan, and Peter Katsis. Their 1988 self-titled cassette launched their signature song, "Party In The Tarpits," an ominous, funky party tune that could fit nicely today as a soundtrack to HBO's vampire series "True Blood." Despite landing on the Halo Records' Light In To Dark compilation LP with Smashing Pumpkins and some high-profile showcase gigs at the Riviera and Metro, Price Of Priesthood never crossed over.
— John Vernon
THE REDWALLS
What began as a teen Beatles cover band quickly caught fire and landed on someone important's desk at Capitol Records. A slot at the first Chicago-based Lollapalooza beckoned, as did a world tour. Unfortunately, their classic-rock throwback got suckerpunched by the double curse of an IE cover story and an endorsement from Oasis. Suddenly, they were dropped from Capitol, anyone without the last name Baren left the group, and, ominously, the club that nurtured them in their youth closed: Nevin's Live.
SLEEPING AT LAST
Handpicked to open one of Zwan's debut shows at Double Door in 2002, this quiet, dynamic, fraternal Wheaton-based trio seemed to have everything going for them when they signed to Interscope Records. The Bjorn Thorsrud-produced Ghosts presented the band pretty much as expected, which apparently precluded standard practices like road-dog touring, media onslaughts, and starting a beef with 50 Cent. Rumors flew about parental interference and the "Wheaton thing" fomenting a neglect of the rock lifestyle. They've vacilated between playing a former Naperville church and the Park West, and last year dropped their third album (the soaring Storyboards) with little advance notice.
STELLA SOLEIL
Chicago has long been home to industrial rock, on which Stella Katsoudas cut her teeth while backing Ministry, Die Warzau, and Chemlab — and maybe she could have made a decent living with it. Instead, she signed to Universal to release Sister Soleil's radio-friendly Soularium in 1998, dragging goth kicking and screaming to the mainstream. Despite her idiosyncratic voice, the album was two years too late in a pop landscape that had grown weary of Republica's "Ready To Go." She was then regroomed as Stella Soleil (an edgy Britney Spears challenger), and actually scored a club hit with an English-language cover of a Turkish song.
TROUBLE
In the same way jangle-pop lovers worship Big Star as the missing link, such is the respect afforded Trouble in metal — unfortunately by a similar-sized group of people. Almost single-handedly (with a nod to St. Vitus), the band bridged the plodding gap between Black Sabbath's heyday and the doom/stoner revival in the '90s. Virtually unmarketable for Metal Blade and Warner Bros. as thrash and hair-metal ruled the '80s and early '90s, Trouble's reputation has been likewise muffled by stop/start reunions and a, well, troubled reissue campaign. Collectors pay big dollars for their out-of-print compact discs; the same music can be found on iTunes.
— Steve Forstneger (except where noted)