Riviera, Chicago
Friday, November 13, 2009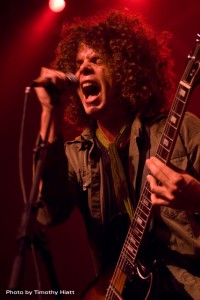 The '70s-rock revival was in full force Friday night at the Riv as Australian rockers Wolfmother hit the stage in support of their latest release, Cosmic Egg (Interscope). Frontman Andrew Stockdale (who's 6'2″, or 6'5″ with the afro) led the charge, and though he's now backed by a new band (his former bandmates abandoned Wolfmother shortly after they won a Grammy in 2007), it didn't slow him down at all.
After opening predictably with the debut's own opener, "Dimension," the band rocked through 14 songs split evenly between their two albums. Stockdale wasted very little time with audience banter (he never introduced the others, and barely paused in between songs), allowing more time to turn nearly every song into an extended jam.
The frontman's quiet charisma and energy carried the band throug the show, as the other members just seemed focus on getting the music right. But get it right they did, as they channeled the late-'60s/early-'70s fuzz of Zeppelin, Sabbath, and Boston and fused it with the modern alt-rock of The White Stripes and Queens Of The Stone Age. While keyboard-laced, trippy tracks like "New Moon Rising" and "Sundial" dazed fans, the frenetically paced punk tunes "Woman" and "Apple Tree" sent the audience into a moshing frenzy. "Joker And The Thief" was built for closing out a live rock show, with its soaring guitar riff and pounding beat. The nearly sold-out crowd didn't get much time to catch its breath, and didn't really care.
Both opening acts were far more than just filler, as both blew the unsuspecting crowd away with impressive sets. Thenewno2, featuring George Harrison's son Dhani, delivered a strong set of synth-laced rock, followed by Cincinnati-based rockers Heartless Bastards, whose lead singer Erika Wennerstrom mesmerized the crowd with her impressive pipes (think Melissa Etheridge meets Chrissie Hynde and Janis), as the quartet rocked through a surprisingly catchy set of blues and country-rock.
— Carter Moss
Category: Live Reviews, Weekly