Bottom Lounge, Chicago
Tuesday, December 1, 2009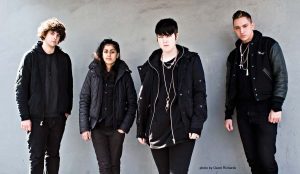 One of the most auspicious album-debuts for 2009 is such a shy record it's a wonder anyone heard it at all.
We're in the midst of an indie-rock trend (Fleet Foxes, Bon Iver) where slow-and-quiet wins the race. The XX, despite their name's allusion to L.A. punks X and the album's ultra-modern artwork, don't come at you — they suggest. The London-based trio (a quartet 'til recently) make occasion of their XL Recordings bow like they're going out for a pack of cigarettes after midnight. Soulful but ambient, melodic but not catchy, post-punk but R&B, songs like "Crystalised" and "Infinity" operate someplace between Aaliyah's "Are You That Somebody" and Yo La Tengo's "Feel Like Going Home." "Night Time" gets its shoes on and seems to want to go in and party, but when the electronic hi-hat breaks the coming beat keeps composure.
Friendly Fires headline.
— Steve Forstneger
Category: Stage Buzz, Weekly