Empty Bottle, Chicago
Friday, November 20, 2009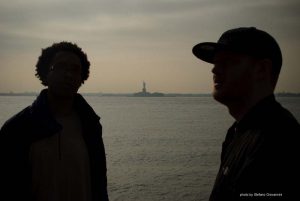 Jace Clayton perhaps overshot when he took the name DJ Rupture. Far from some icy, glitch-happy beat assassin, he's a synergist. "He's worked with The Ex and Guy Picciotto," you sneer, "formed a bond with Kid606." True, and all he has done since is bring those things together.
Solar Life Raft (Agriculture), this fall's outing with Matt Shadetek, goes further in that vein by dragging in everyone in New York he conceivably could, from poet Elizabeth Alexander, prodigal composer Nico Muhly, to restive kitchen-sink rockers Gang Gang Dance. Strangely, despite staying local (though there are contributions from some outsiders), Raft feels like worldbeat from the fringes, an eclectic mix that funnels heavy dub and grime with bits that channel not only M83 or Fuck Buttons, but swirls of Sigur Ros or the odd cello riff.
Devlin & Darko headline.
— Steve Forstneger
Click here to download "Layin In Bed."
Category: Stage Buzz, Weekly