Vic, Chicago
Monday, November 16, 2009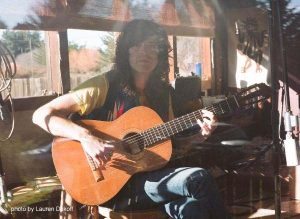 Regina Spektor proved that a proud anti-folk member could make it work for a major label, though her success didn't exactly offer clues as to who would be next. After making a gentle leap to glamor-indie XL, hirsute cosmonaut Devendra Banhart is shilling for Reprise.
I've written about this before, but at a Logan Square Auditorium concert in support of 2005's Cripple Crow, an audience member jokingly yelled "Judas!" at Banhart because he was leading a full rock band a la Dylan in '65 at Royal Albert. The joke wasn't lost on anyone — but now it seems it was only the Dylan reference people understood. Slowly but surely Banhart has wiggled out of the hippie frocks people have smothered him with and tried to be accepted as a mainstream musician.
This doesn't mean he's locked away the records that built his base, and this fall's What Will We Be isn't pulling the wool over anybody. "Angelika" and "Chin Chin & Muck Muck" still make use of his trademark melodies that fall somewhere between Donovan and children's music, and he'll always appreciate some loopy tropicalia no matter how many New York art openings he attends. That said, What Will We Be — perhaps due to an emphasis on production — sounds more serious than usual. Any attempts at breakout singles are confined to "Baby" and "16th & Valencia, Roxy Music," while "First/Last Song For B" reaches for the '70s singer/songwriters and "Maria Lionza" shuffles off to bed. It's as varied a record as he's ever released, and strangely one of the most consistent. Maybe he wasn't that big of a freak in the first place.
Tim Kinsella opens.
— Steve Forstneger
Category: Stage Buzz, Weekly