Riviera, Chicago
Saturday, November 7, 2009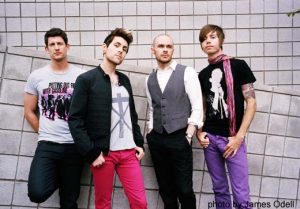 In September 2007, AFI's Davey Havok and Jade Puget brought their electro-synth side outfit, Blaqk Audio, to the Double Door for an intimate and electrified show. The performance was a far cry from the far-reaching cries of AFI's often overdramatic and tortured anthems, borrowing more from the dance-pop side of Depeche Mode than that group's drowning and hopeless Ultra-era. And while AFI's Saturday night stop at the Riv didn't venture into Blaqk Audio's synth-pop sound, it did find Havok, Puget, and the rest of AFI delivering a similarly celebratory set.
In town to support the September-released Crash Love (Interscope), AFI emphasized power over pathos, aiming with arena-anthem ambitions. Crash Love closer "Torch Song" opened the evening and set the tone for what followed, itself boasting a cathartic siren's call backing Havok in the chorus. Similarly, "Beautiful Thieves" featured looming, Queen-esque shouts that served to emphasize its power-pop sensibilities, while "Okay, I Feel Better Now" prompted a crowd clap-along. Though for all of its bluster, much of the group's more modern material lacked a bit of the color and disparity of AFI's more macabre selections, instead coming off more polished than memorable or unique.
Naturally, a few of the band's somber selections did show up in the set. Callbacks off 2003's Sing The Sorrow like the hushed, sparse "The Leaving Song" and the electronic-injected "Death Of Seasons," with Havok emitting strained, throaty howls like a wounded animal, served as reminder of the band's more morbid tendencies. Yet, judging by the members' recent works, it seems like AFI's most gothic days are behind them, with a stronger focus instead on power-anthems and pop-rock productions. Whether it's a blessing for the band remains to be seen.
— Jaime de'Medici
Category: Live Reviews, Weekly