Empty Bottle, Chicago
Friday, October 30, 2009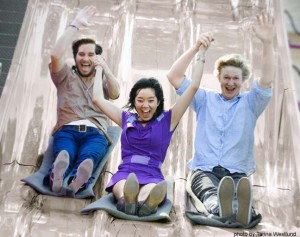 Thao Nguyen appears to love obstacles — especially the kind you can stack. Already challenged in the heart department, confronting her are the dreaded sophomore-album slump, having to refresh her melancholic-sunshine milieu, and making a concerted stab at being more mature. Good luck.
The maturity bit will prove to be most difficult. Nguyen, even in her quietest moments, sprinkles a child's enthusiasm on her songs, as if compulsively. Beyond that, like the Beastie Boys, you just can't imagine a refined Thao With The Get Down Stay Down would be any good. If she leaves that duty up to the twosome who are The Get Downs, she'll be in good hands. The work of Adam and Willis Thompson on Know Better, Learn Faster (Kill Rock Stars) puts more hammer in Nguyen's twee mood swings, which are sometimes in danger of spinning off their axis. "Body" is particularly impressive, borrowing a Kingston beat and padding it with meaty, Bonham forearms. Perhaps they can convince her to avoid cringe-worthy intros to songs like "Sad people dance, too." Sophomore year will be over soon and she'll have to learn to drive herself.
Portland Cello Project open.
— Steve Forstneger
Click here to download "Bag Of Hammers" from We Brave Bee Stings And All.
Category: Stage Buzz, Weekly