UIC Pavilion, Chicago
Wednesday, October 7, 2009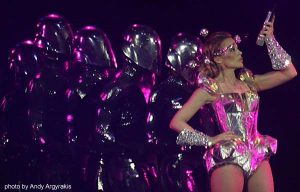 Whoever originally booked Kylie Minogue at the Congress Theatre either had no appreciation for her ability to sell out a week's worth of arenas in the one city overseas or the fact that she's an underground club hero in America. Granted, the less-educated side of her U.S. audience has reduced her two decades to merely a cover of "The Loco-Motion" and the comeback tune "Can't Get You Out of My Head," but as a last-minute arena upgrade indicated during her first-ever tour on our soil, her history actually runs much deeper.
Like Madonna, Cher, Beyoncé, Britney Spears, or any of the other larger-than-life pop divas, Minogue's two-hour show was all about the spectacle and less about the singing, though she did perform live the entire time with a full band, rather than the ever so suspicious head set microphones and backing tracks utilized by some peers. While her voice is fairly limited on stage, she's certainly eye candy and quite an accomplished dancer, not to mention someone with one of the catchiest dance/pop catalogs on any corner of the globe.
After a grandiose overture that found the superstar descending from the ceiling on a massive skull surrounded by strobe lights and flanked by eight dancers, she blasted into the dancefloor bliss of "Light Years" and "Speakerphone," the latter of which comes from her latest recording X (EMI), which basically picks up where Madonna's Confessions On A Dance Floor left off.
It might appear lazy to compare the two (even though Minogue is often considered Australia's version of the Material Girl), there were several parallels in the pacing of their shows (and she even covered "Vogue"). Elaborate choreography and costume changes ensured there was never a dull moment (even between songs), while many tunes were mashed into one another to simulate a continuous mix (with a medley of "Shocked," "What Do I Have To Do?," and "Spinning Around" the most effective).
For the sensual "Slow," the 41-year-old entertainer put on such seductive moves that she could've passed for 21, while the normally brisk "I Believe In You" showcased a much more tender side given its translation into ballad contexts. Minogue also took a similar approach in rearranging "The Loco-Motion," brilliantly shifting away from the Tiffany-esque initial crack to reinvent it with a classy jazz saunter.
But it was back to the beats for an outrageous encore loaded with Vegas-style glitz and mounds of confetti. "Better The Devil You Know" was oh-so-simple but undeniably lip-smacking; "The One" was decadent disco reincarnated through a Lady Gaga lens; and "Love At First Sight" was pure-bred pop at its most potent.
At the end of the undeniably entertaining affair (despite its occasional campiness, like the innuendo-doused gymnastics scene), it's absolutely perplexing why Minogue hasn't made more of a splash in the States. While certainly not rewriting the pop playbook by any means, she has the glossy schtick down so well that there's no reason why America wouldn't embrace her just like Madge and the former Mrs. Federline should she decide to spend a little more time here.  
— Andy Argyrakis
Category: Live Reviews, Weekly