Schubas, Chicago
Saturday, October 17, 2009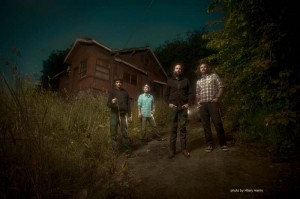 A common complaint about The Beatles' reissues is how poorly protected the CDs are, ready for a new scratch each time they're removed from the digipack cases. Granted, they aren't the only band doing this, but Grand Archives have pillowed Keep In Mind Frankenstein (Sub Pop) in a sleeve.
Pardon the convoluted measures taken to get the word "pillow" in there, but drastic tactics are appropriate when countering a sound this plush encased in titles like "Topsy's Revenge," "Left For All The Strays," and "Crazy Grave." Despite the inroads Sub Pop Records has made, their logo still signifies snotty, white-boy noise, and Grand Archives are the disembodiment of that reputation. Former Band Of Horses mate Mat Brooke claims to have intended to make the followup to their self-titled debut more of a rock album, but anyone who enjoyed its "Sleepdriving" will sink into Frankenstein like Dad's old barcalounger. Opener "Topsy's Revenge," about an elephant Thomas Edison used to electrocute in public experiments, tiptoes in to fix your blanket while you count sheep. "Dig That Crazy Grave" incites a riot in comparison, with its loping, country shuffle clip-clopping like Lucky The Horse waving goodnight. Rock me . . . on the water. Sister won't you soothe my furrowed brow . . .
Black Whales and Paletazo open.
— Steve Forstneger
Click here to download "Oslo Novelist."
Category: Stage Buzz, Weekly