Rosemont Theatre, Rosemont
Wednesday, October 21, 2009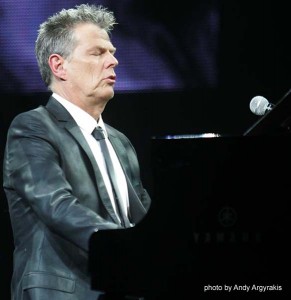 He's arguably the most successful pop-music producer in history and has worked with every major player since the '70s. Between Whitney Houston, Madonna, Michael Jackson, Barbara Streisand, Celine Dion, Cher, and Josh Groban, his work has helped sell so many millions of albums it should fall to NASA to keep track. While the industry at large always knew the man with the Midas touch at crafting a pop hit (with 15 Grammy Awards to boast), the general public probably wasn't all that familiar with David Foster until now.
Between an autobiography, PBS special, and CD/DVD set Hit Man: David Foster & Friends (Warner Bros.), the producer-pianist has certainly scored some face time outside the studio. And that plan's destined to continue throughout a fall tour with several famous faces past and present, which kicked off in suburban Chicagoland featuring two hometown heroes: Peter Cetera and Richard Marx.
Before those veterans took the stage, Foster opened the show with his calming instrumental "Love's Theme From St. Elmo's Fire" and then shared the spotlight with some younger protégés. "American Idol" alum Michael Johns showcased the rock side of the producer's vast catalog, merging The Tubes' quirky "She's A Beauty" with the aforementioned soundtrack's other single, "St. Elmos Fire (Man In Motion)." Though both were products of the '80s, his gritty pipes and more modern arrangements helped give both tunes a fresh twist.
A little later in the evening, fellow "Idol" star Ruben Studdard helped exhibit Foster's soulful escapades with his bellowing voice working wonders around Al Jarreau's "Morning" and a gospel-tinged rearrangement of Michael Bublé's "Home." Deborah Cox competently dusted off Chaka Khan's "Through The Fire," while newcomer Charice gave Houston a run for her comeback money with mighty renditions of "I Have Nothing" and "I Will Always Love You."
Speaking of new talent, the "Hit Man Talent Search" spotlight segment featured two Windy City performers plucked straight out of an Internet search. Suit-and-tie clad 17-year-old Jacob Dow performed a flawless version of "Fly Me To The Moon" a la Bublé, while 24-year-old Erika Rodger belted out "And I Am Telling You I'm Not Going" from Dreamgirls as a true diva in the making. Even more impressive were The Canadian Tenors, who turned in a handful of classical selections, plus an operatic cover of Leonard Cohen's "Hallelujah."
On another '70s note, Bailey may have lacked the Earth, Wind & Fire horn section, but he still brought some funk focused-fire to "Boogie Wonderland" and "September." Of course, the quiet storm groove "After The Love Is Gone" was on the docket given Foster's cowrite, and while he didn't quite command the same ultra-high range as the original, it provided an obligatory sing-along.
Switching gears to rock, Marx took a break from his ongoing Duo tour to lead a full band through tried-and-true versions of "Endless Summer Nights" and "Right Here Waiting." But even more interesting was a story Foster shared about originally suggesting that Marx should stick with studio work rather than branching out as a full-time artist. After teasing one another, Foster confessed that in this instance he loved being wrong and Marx ribbed him with a reminder he's since sold more than 30 million albums.
The headliner provided several other insights into the songs and collaborators, making the event read like a "VH1 Storytellers" session. He introduced Peter Cetera as a guy he always got star struck over and the city's own proved why when nailing signature Chicago and solo ballads like "Hard To Say I'm Sorry," "You're The Inspiration," and "Glory Of Love" (though occasional microphone feedback left him visibly irritated). Nonetheless, he rebounded for a robust duet with Johns throughout "Hard Habit To Break" and rounded out his set with Chicago's joyfully nostalgic "If You Leave Me Now."
At the end of the 150-minute night, the entire cast (sans Cetera) came out for a poignant grand finale of the Foster/Will.i.am Obama inauguration anthem "America's Song," reading like an "American Idol" episode, except with several stars that already made it. If there was a consistent theme throughout the seemingly diverse evening, it was Foster's vision for crafting singers of superstar status. Though that goal may rub those with more experimental tastes the wrong way, his massive mainstream appeal is undeniable and "Hit Man" is more than just a title — it's his way of life.
— Andy Argyrakis
Category: Live Reviews, Weekly