The Further Adventures Of Plastic Woman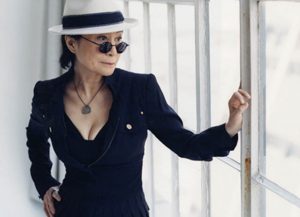 Many know Yoko Ono as leader of Plastic Ono Band, others for solo tracks spun in danceclubs across the globe, some as an avant-garde artist. Of course, she'll always be linked in the mainstream press to her famous (and occasionally infamous) marriage to John Lennon, much of which was anchored in social and political activism.
"I just want to live 150 percent whatever I do; I just want to do my best and I'm just very happy that I'm alive," says the singer/songwriter/cultural icon, phoning in from her New York office at 76-years young (as she specifically emphasizes). "We don't have much of a choice. We just have to be positive, I mean, what else do you want to do, kill yourself? Please!"
It's a curious choice of words for someone who's been shunned by some Beatles fans for arguably being a factor in the band's break-up, but also a witness to her beau's shocking murder nearly 30 years ago. And though she's shy about discussing those subjects, the season finds her resurrecting another psychedelic-era scenario in the form of her Plastic Ono Band, which originally housed the late Lennon, Eric Clapton, and Yes' Alan White (to name a few), but now features the couple's 33-year-old son Sean and several players from his touring band.
"Well he would've loved it, but I think he would have wanted to participate in it," she suggests of what Lennon might have thought of the new Between My Head And The Sky (Chimera). "I decided on the Plastic Ono Band title after being initially advised by the Japanese music people, who asked if I could do it as the Plastic Ono Band. I said, 'That's fine,' and the reason I said that is because I remembered the first Plastic Ono Band, which was kind of breaking the sound barrier. So this one is equally kind of revolutionary in a sense, but in a totally different way, so I said, 'Well, this is Plastic Ono Band' [because] it's so diverse."
As a result, new tunes run the gamut of the punk-tinted "Waiting For The D Train," the dance-doused "The Sun Is Down," unconventional acoustic ballad "Feel The Sand," and somber, piano-centered reflection "I'm Going Away Smiling." It's that type of unpredictable amalgamation that Ono thrives on, especially in an age of sanitized radio formats that demandi homogeneity.
"On most albums, what they do is they decide, 'O.K., this is classical music so we'll stick to classical music,'" she observes. "But in life, you hear classical music and then you hear jingles, but they sanitize it and edit it out so it's really boring. I didn't want to do that, so this album is kind of hodge-podge, which is what I like and what I'm proud of."
— Andy Argyrakis
For more on how Ono changed her approach, grab our September issue, available free throughout Chicagoland.