Empty Bottle, Chicago
Friday, September 11, 2009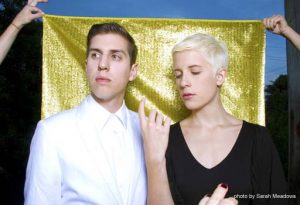 Yachts are a great metaphor for '80s oblivion, big, honkin' seafaring jungle gyms with little intrinsic value other than to the people who buy them and those they pay to maintain them.
Despite Jona Bechtolt's dabbling in the occasionally dry synth line, however, his YACHT party gets a little more grounded on this year's See Mystery Lights (DFA). That might seem like a stupid thing to write given the title's reference to UFOs zipping through the Texas sky where this was recorded, but the first two cuts busy themselves with finding out what it all means. Maybe it's the droll presence of now-official member Claire L. Evan; maybe recording for James Murphy's indie-dance sanctuary DFA felt like cause to record something more substantive than Kanye West shout-outs. Whatever it is, it won't bog Bechtolt down.
Though the crowd in attendance for this night of the Empty Bottle and The Wire magazine's "Adventures In Modern Music Festival" will be subjected to watching this pair dance with headphones on, it'll be hard to resist joining them. Once Lights takes flight on "It's Boring/You Can Live Anywhere You Want," nodding your head in accordance ceases to suffice. "Psychic City" nabs an urban-tropic beat to revive those Luscious Jackson odes to the city, while "Summer Song" is an implicit nod to Murphy and Bechtolt's debt to him. Near the end of the record, the overdubbed harmonies can get gummy and a compulsion to jerk with the beat becomes an annoyance, but YACHT are celebrating life and it'd be a pity to get caught in trivial matters.
Menace Ruine, Burning Star Core, and Ju Suk Reet Meate & Oblivia open.
— Steve Forstneger
Click here to download "Psychic City."
Category: Stage Buzz, Weekly