Hospice
(Frenchkiss)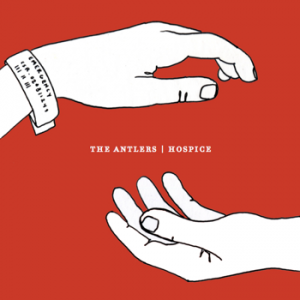 Noise, even if it was just a texture, used to stand out. When some bebop saxophonist assailed you with a foul note you knew it, just as a rapacious feedback squeal could jump off a slab of vinyl and unseat you if even for the shortest moment.
Appearing: Monday, September 21st at Subterranean in Chicago.
Now it's something that can be tamed. Just as the horror-film bent of Portishead was redirected to dinner-party backdrop in the '90s, noise rock practically phones you up before politely emanating from your speakers. It isn't a sensation invented by The Antlers, but Hospice works toward perfecting the matter. "Sylvia" fades in like trying to slowly pull in a radio signal with the volume down, and even as it builds to a crescendo, it does so while being shredded by a fierce wind. "Wake" opens its eyes underwater, and closes with a ringing of bells so gentle it's like being driven insane by wine glasses sitting too closely in the cabinet. What's remarkable about it is not the garden-tool hum in "Atrophy" or how "Bear"'s intrusion into "Thirteen" recalls the opening strike of The Beatles' "A Hard Day's Night"; they're among the myriad cogs in Hospice's 50 minutes. But strangely, the sonics control the pacing on an album whose tempo never greatly varies. Loud/soft dynamics have been en vogue since forever. But now, instead of the effect distinguishing black and white, we're getting gray and grayer.
7
— Steve Forstneger