Richard Thompson
Walking On A Wire (1968-2009)
(Shout Factory)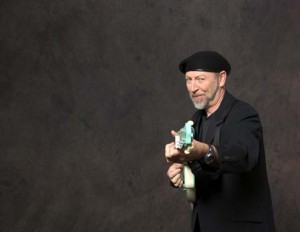 Somewhere early on in his career Richard Thompson got tagged as one of the great guitarists, but I've never thought it was true. He is an exceptional guitarist no doubt, but he is absolutely a great songwriter. And it's great songs that last. There are 71 tracks – approximately a sixth of the songs Thompson has written over four decades – that make up the Walking On A Wire box set. Not many artists have this strong of a catalog to warrant such a large collection without a disc or more worth of "demos" and "outtakes" and the usual box-set helper. Listen to these four discs from beginning to end and they tell a remarkable story of a young songwriter who grows into a master craftsman of the art form. And yes, quite handy with the ol' axe too.
Appearing: Thursday, October 29th at Vic Theatre in Chicago.
Long time Thompson fans will certainly quibble with some of what's included – or not included – here, but they won't be able to argue with the representative selections made by Thompson, who apparently chose all the tracks. Every album he has released is represented here, beginning with Fairport Convention's debut through 2007's solo Sweet Warrior. The story this box set tells manifests itself in a variety of ways. For instance, on the Fairport tune "Sloth" (1970), you hear snippets of what would eventually become Thompson's trademark textured, spare blues guitar sound. "Roll Over Vaughan Williams," from his first solo album, Starring As Henry The Human Fly (1972), introduces Thompson's matchless melding of more muscular rock 'n' roll with ancient Scottish balladry, a nifty trick unique to Thompson. You hear the influences of the disco era on his and then-wife Linda Thompson's 1978 "Don't Let A Thief Steal Into Your Heart" (remarkably, it works), and two decades later, his and old bassist friend Danny Thompson's 1997 high-concept Industry album, which evokes the death of agrarian society in England and the dawn of the Industrial Revolution, manages to sound contemporary, experimental, funny, and reverential all at the same time.
Two of Linda And Richard Thompson's albums – 1974's I Want To See The Bright Lights Tonight and 1982's Shoot Out The Lights (you can guess which was made while their marriage was dissolving) – take up a lot of space here, six and five tracks respectively. As they should: both albums often appear on All Time Top Album lists and would probably be the better entry to Thompson's work than a four-disc collection that spans his career. His 1994 Capitol disc, Mirror Blue, gets a lot of space as well, including "Beeswing," perhaps the most heart-achingly romantic song Thompson has ever recorded. There are a few live gems included here: his cover of The Who's "A Legal Matter" and a fantastic 12-minute version of "Hard On Me" from 1999's Mock Tudor. The six-minute blistering guitar solo is evidence that this craftsman can also kick the shit out of a six-string.
8
— Michael C. Harris