Chopin Theatre, Chicago
Friday, September 11, 2009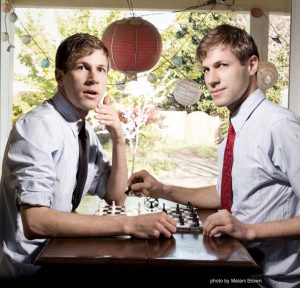 It'd be interesting to watch the members of Menomena daily — making toast, turning a television on, walking. A self-designed computer program gave them their first album, which came with an 80-page flipbook (the vinyl cover folded like origami). The critically acclaimed follow-up, Friend And Foe, continued with square-peg loops and was performed almost entirely via choir for its Portland, Oregon release party. They don't do anything the easy way.
For Ramona Falls, vocalist Brent Knopf's side-project, the "trend" continues. Knopf visited the houses of several Portland musician friends, jammed with them for hours, recorded the sessions, took them home and spliced them, and reassembled them into Intuit (Barsuk). Mildly arrogant title aside, the resulting sculpture is typically flawless. It's eerie how Knopf has woven "Bellyfulla'"s parts to make it sound as if it were recorded live, never mind the clarity with which acoustic guitar and plucked violin punctuate the mix. "Russia," which could be a sister track, offers no hint to the fuss that went into it. Menomena fans will, however, feel confronted with the relative straightforwardness of the arrangements, and possibly even put off by the thaw in Knopf's pipes, which often sport a Michael Stipe quaver ("I Say Fever"). If only deriding Intuit were so easy.
Picture Books open.
— Steve Forstneger
Click here to download "I Say Fever."
Category: Stage Buzz, Weekly