Les Was More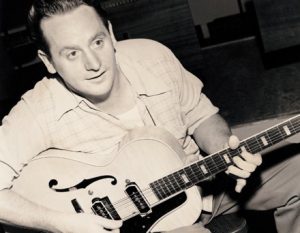 We've strained, but we can't think of an adequate parallel to Les Paul's notoriety vs. his actual impact. (Somehow Ben Franklin and bifocals just don't capture it.) Despite the guitar body that made his name an emblem, Paul's greatest contribution to music wasn't his attachment to Gibson Guitars' iconic slab of wood. Sure, his sonic pursuits led to some ungodly looking contraptions like "The Log," but, oddly, the Les Paul guitar wasn't his creation. The people who should have been clinking shot glasses on August 13th, the day he died at 94, were recording engineers. Like with that solid-body guitar, someone probably would have stumbled upon multi-track recording eventually, but Paul was the first and he taught the future how to rock panoramically. His pioneering efforts in tracking individual parts to be played back simultaneously kicked open the world of recording. Experiments with echo, delay . . . today they'd be on par with inventing the iPhone in a hotel room. In a sense, every rock 'n' roll recording has been done on a Les Paul.
Big Letters, Big Ideas
If you're gonna roll in the industry, you have to be up on the jargon and specifically the acronyms. In the spring, we hit SXSW. Twice annually, gearheads do a tour at NAMM. In the fall, CMJ owns New York. Don't forget MOBfest. But Tuesday, October 6th, we're turning back time and spelling things out. Do. I. Stutter? Years ago, New Music Seminar (NMS) eventually, sorta haphazardly in a bouillabaisse kinda way, morphed into CMJ. But next month it comes to Chicago as a wake-up call. Refined to a one-day event (bear in mind, Madonna was a guest back in '84), the mini-convention will attempt to reinforce what we've been hinting at for some time: THE WHOLE SYSTEM IS BREAKING DOWN. RUN, RUN FOR YOUR . . . whew. The idea for NMS100609 is to update musicians and anyone remotely related what the future holds for the music industry. The day opens with a keynote speech followed by four sessions. Before you get to thinking this is some fly-by-night op, Gibson, Jam, Billboard, Myspace, and Yahoo are all sponsors. Visit Newmusicseminar.biz to join.
Five More Years
It's weird watching kids grow up. Five years ago, we celebrated Bloodshot Records' 10th anniversary in our old Indie Label Guide, relishing in its near-monopoly on "insurgent country" music in Chicago. But 60 months is a long time when you're that age and it's shocking – shocking – to think those kids will be driving next year. Clear the roads, hardy har!
Though a celebratory tour has gone regional, Nan Warshaw and Rob Miller have picked a familiar hollow to celebrate the quinceañera in Chicago: Hideout. Thankfully for us, we'll recognize the teen after the past couple years spent dealing in indie rock. Lined up for the Bloodshot Beer-B-Q on September 12th – assuming the role of Hideout's annual block party – are Alejandro Escovedo, The Waco Brothers, Bobby Bare Jr., Deadstring Brothers, reunited The Blacks and Moonshine Willy, Scotland Yard Gospel Choir, and Scott H. Biram. Timmy T. might even return from Washington to MC.
Miracle On 22nd Street
I'm not so sure I'd mention this to Buddy Guy, whose crusade to make the city officially recognize the blues will soon lead to fisticuffs, but it actually appears Chicago knows it has a thriving arts community. How can we be so sure? The departments of Community Development and Cultural Affairs have joint designated the Cermak Road Creative Industry District. This landmarked plot of four warehouses in Pilsen – newly infiltrated by, let's face it, white artists – off the Chicago River alots 800,000 sq. ft. of space for creative uses like "Artist Work Space, Restaurant, Retail, Entertainment, High Tech Office, and Artisan Manufacturing." What that means is it won't exactly mirror the self-formed community at 1658 N. Milwaukee or the South Side's Shape Shop, but as an acknowledgement it says a billion things. Now, about those Willie Dixon, Muddy Waters, and Howlin' Wolf plaques at O'Hare . . .
— Steve Forstneger