Toyota Park, Bridgeview
Saturday, August 15, 2009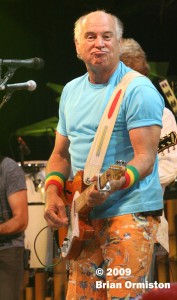 By the time the skipper of summer cranked up the Corral Reefer Band at 20 past eight, the party was already hours old.
Saturday was Act 2 of Jimmy Buffett's 2009 Summerzcool Tour at Bridgeview's Toyota Park. On a steamy night where there wasn't a lot of "cool" in the air, Buffett played to a packed house of Parrot Head faithful. On stage as always, barefoot and in shorts, he kicked and sometimes dodged the many beach balls bouncing around the arena. Flanked by two huge palm trees that framed a video board, the 10-piece band and its hip-shaking backup singers were scattered around bamboo fencing. Cue the fog machine for effect and even the cheap seats got a good show with two additional screens on the side of the stage.
For a guy of 62 who has been touring since the early '70s with somewhere around 30-plus dates a year, Buffett still has his pipes. He played many of the staples or his "Top 8" that keep selling the seats and the lifestyle. A touring pro that knows how to work the home town, he wound in specific Chicagoisms and locations in nearly every song as if he was shacking up in Elmhurst all summer.
What was different with this show and tours past was its harder-pounding rock feel. Once the band stretched a bit and the outside cameras were politely escorted out (song three!), Buffett seemed to relax and start to enjoy himself. His new tune, "Summerzcool," will certainly make many a playlist and kicked in the summer theme. When they got to a Buffett standard, Van Morrison's "Brown Eyed Girl," the band morphed into a full, thumping, and in-sync bouncing troupe. Playing a song they like night after night is one thing, but they sold it like they really enjoyed it.
Before the intermission, Buffett went acoustic with a new tune that, given the state of the world, was very timely. "A Lot To Drink About" took shots at just about everyone in the news these days then, somehow, segued into a short version of "Why Don't We Get Drunk And Screw."
After the break, Buffett let Coral Reefer guitarist and songwriter Peter Mayer promote his next project by leading a version of The Beatles "Rocky Raccoon" that might find a few of the younger fans searching for the original. He also helped out special guest Ilo Ferreira in his original "Let Me Love You," that should be earmarked as a download. Stretching again with his first "surf song," Buffett and the band pounded our "Surfin' In A Hurricane" that worked nicely into the Crosby, Stills & Nash's "Southern Cross."
Buffett closed with the traditional "Margaritaville" and "Fins" because even the guys wearing the coconut-shell bras need to hear the songs that started all this craziness. In keeping with the Beatles theme, he pounded out "Twist & Shout" along with "Yellow Submarine" before calling it quits nearly 28 songs and two-and-a-half hours later.
In the end, this one-man marketing machine sent the girls in grass skirts, flip-flops, and bikini tops back to the real world with a few stories to tell, maybe a few new friends, but definitely worn out from a full night.
— Brian Ormiston
Category: Live Reviews, Weekly