Big Whiskey & The Groogrux King
(RCA)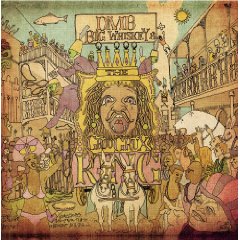 Big Whiskey & The Groogrux King will go down as the album Dave Matthews Band were making when saxophonist LeRoi Moore died, not that you'd know from the recording.
Appearing: July 18th and 19th at Alpine Valley in East Troy, WI.
Actually, credit DMB for leaving their handkerchiefs at home and moving on. Moore is partially referenced in the title (one of a small clique in DMB), though Matthews himself was rumored to be so put off by the mouthful pronunciation that he added "Big Whiskey" – a drunken-panhandler anecdote – probably to appease his Deadhead-lite fans. (So much for tributes to a fallen comrade.) Otherwise the parts Moore recorded for the album take their place as they normally would, and therein lies the problem with not just Big Whiskey, but DMB in general: the T-ball manager approach to arrangements and, after all this time, the band still don't swing.
Aside from some trite, "what does it all mean" lyricism and Viagara Triangle come-ons, the album doesn't lack for quality material. "Dive In" and "You & Me" standout especially for their hammock-bred simplicity and unfussiness. But, like many before him, producer Rob Cavallo cannot keep from letting everyone play at once, stripping the songs of nuance in favor of generic, studio-rat piling on. If Moore had died before recording any of his parts, you wouldn't miss him because everything blends so indistinctly. Even when Matthews is singing pretty much alone on "Baby Blue," Cavallo cannot resist putting strings in the background and you feel like the rest of the players are pushing on the studio walls to get into the mix. "Time Bomb" is the biggest culprit: Despite a much-needed dose of electric guitars, the ever-present brass is allowed to file down the gnashing teeth, and then, as if to underscore his role in encouraging this farce, Matthews' clenched yell "I want to believe in Jesus!" is provided with, as if he's on Mount Sinai yelling at God, echo (echo . . . echo). Somewhere, Moore is laughing back.
5
— Steve Forstneger