Subterranean, Chicago
Tuesday, July 7, 2009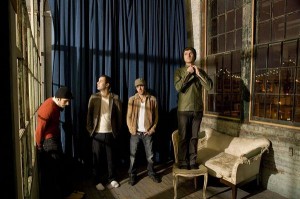 In the first half of the decade, a new class of sensitive artists emerged and were quickly embraced by wristband-clad teenagers everywhere, epitomized by vulnerable acts like Chris Carrabba's precious, whisper-laden Dashboard Confessional. Yet among all the new sensitivity and tales of boys with broken hearts, Levittown, New York's Brand New stood out. The group consistently ventured into darker territory than their peers, due in no small part to frontman Jesse Lacey's tendency to channel some truly tortured and personal demons.
Last night's sold-out Subterranean show put those same demons front and center, on display to a thoroughly packed house. Lacey and the group, minus guitarist/keyboardist Derrick Sherman who missed his flight, immersed themselves in the spirit of their music, never once letting up. With no real predetermined setlist, the group delivered a performance all at once spontaneous, assaultive, and unquestionably sincere. Not surprisingly, the set's raw emotion was rabidly received by a room of faithful devotees. The sheer volume of full-venue sing/shout-alongs alone proved there was nary a fair-weather fan in the house.
As if to reward such undeniable enthusiasm, the group presented a set full of surefire crowd-pleasers. By the second song, they unleashed the breakout fan favorite "The Quiet Things That No One Ever Knows," uniting the room as the crowd united in declaration, with a call of "I! Lie! For! Only you!!" It wouldn't be the last such moment of synchronicity. During the dour and severe "Sowing Season (Yeah)," Lacey howled out the song's cruel notice of "I am not your friend, I'm not your lover, I'm not your family," straining to be heard over a room of agreeing voices. Of course, other moments found the house shouting out loud to a song's every single lyric and verse, as was the case with the feedback-marked and reverb-drenched "Okay I Believe You, But My Tommy Gun Don't."
While crowd response may have proven consistent, the show's tone proved more extemporaneous. The mellow, if not downright despondent "Jesus Christ" would soon give way to the positively pop-punk "Jude Law And A Semester Abroad," itself all loose, fast abandon and quickly crashing cymbals throughout the chorus. And newer material, off the group's forthcoming And One Head Can Never Die, proved just as disparate. One such selection, titled "Bride," unleashed surprisingly jarring, chugging riffs and an an ominous tone, channeling a more tuneful Tool with its unbridled bluster and fury. Similarly, "Gasoline," another Head selection, proved simultaneously jagged and rabid, with Lacey shrieking every word as feedback masked the song's main riff and drumsticks practically sparked upon impact.
Yet in a show whose only constant was a range of wildly contrasting emotions and approaches, Brand New's closing selection best embodied the group's aesthetic, if not reason for existing. "Soco Amaretto Lime," the outfit's defining adolescence anthem, came across profoundly personal, if not slightly bittersweet, as a crowd who are no longer the teenagers they once were, joined an anthem idealizing being "18 forever." As Lacey stood alone onstage, performing with just a warbling electric guitar, he closed the evening repeating "They're just jealous 'cause we're young and in love," before adapting to "I'm just jealous cause you're young and in love," to simply just "'Cause you're young and you're young and you're young and you're young." Confessional, indeed.
– Jaime de'Medici
Category: Live Reviews, Weekly