The End Is The Beginning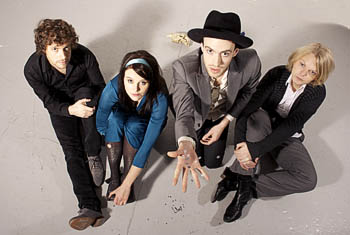 At home in London, Finn Andrews sounds anything but comfortable. The Veils' driving force says he's perched on a stool, but in truth it sounds as if he's upstairs in a closet with the lights off, clutching his cell phone so closely his voice sounds muffled.
Appearing: Thursday, July 23rd at Empty Bottle in Chicago.
Now's not the time to be hiding, however. His band's third album, Sun Gangs (Rough Trade), is being added to store shelves the day he speaks to IE, while both European and North American tours are waiting to set sail.
"[Albums] always seem to mark some kind of transition in my life," he says, as if lying in wait. "I don't know if they bring about the transition or if it's coincidence. They always build bridges between things to me, and there's a huge amount of closure you get. Like the album came out today and it's really a great feeling, a new beginning."
Sun Gangs, from what he can tell, wouldn't exist if it weren't for some bitter emotions, a same-old ending. "It's all concerned with a lot of the same feelings," he explains, but "it's still working [itself] out, really. It's still new to me. I think the problem where I write is I don't think about it. It takes awhile to make sense. I know the last two [records] took a good year for a lot of the songs to come into focus for me. It's a strange process. All the time. Odd little things in songs, they come from all kinds of aspects of yourself so you have premonitions and weird little dreams and journals. I'm always surprised and that teaches you about where you are in the world."
But when he mentioned "new beginning" earlier, he wasn't being banal. "I was at the end of a five-year relationship, and that was all disintegrating." Instead of waiting for the pieces to fall into place for a standard break-up song cycle, he kept pace with his life. "While we were recording, strangely, while it comes across that something was ending there was also something beginning. It was such a long process, writing it, the first half of the writing was written during a break-up and the second half was the beginning of another something else. I think that quality is in the record. That's the way it comes across to me."
But again, Andrews might need a couple months to be sure. In the meantime, the listener is left with a basic frame to decipher Sun Gangs. On opener "Sit Down By The Fire," he marvels at the "complicated beauty of a river run dry." But soon he's off the deep end, cryptically warning with the title track, "Where I am going/you can't save me." Though the album treads audio territory familiar to fans of Nick Cave, The Verve, and Miles Benjamin Anthony Robinson, everything's anchored to Andrews' haunted moans, which, at its most needful, seems to internalize Anthony Hegarty, Jeff Buckley, and Richard Ashcroft. (Though, contrarily, "Killed By The Boom" recalls Jack White at his nastiest.) "It Hits Deep," in particular, may take place over drinks in a bar but it might as well be a cell. Even when life turns around on the finale, "Begin Again," he's wary of acid rain, stinging truths, and "roaring flames."
— Steve Forstneger
For the full story, find the June issue of Illinois Entertainer, available free throughout Chicagoland.