Bottom Lounge, Chicago
Monday, June 15th, 2009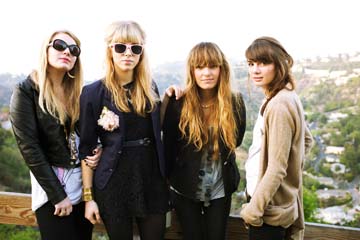 The Plastiscines, a Paris-based quartet of female musicians barely out of high school, showed a surprising command of American-style garage rock on their 2008 debut, LP 1., this despite the fact much of the disc was sung in French.
The guitar-driven "Loser" and "Mr. Driver" sported infectious melodies while "Pop In, Pop Out!" and "(Zazie Fait De La) Bicyclette" exuded a seductive playfulness. The Plastiscines recently signed as the first act on the American label Nylon (an offshoot of the magazine) and are part of Nylon's Summer Music Tour, which stops at Bottom Lounge in Chicago June 15th.
Their ambitious second effort, About Love, which will be officially released August 4th but is digitally available now, offers more diversity than its predecessor. Several songs are rendered in English, including the ballad "I Am Down" and a cover of the Linda Ronstadt hit, "You're No Good." Occasionally, there's a hint of aiming for the teen market, like when vocalist/guitarist Katy Besnard proclaims, "I a bi-itch, a bitch in disguise." Mostly though, About Love continues the band's mission to have fun so the live show should be a high-energy affair with catchy new tunes like "From Friends To Lovers," as well as the slinky "Coney Island," which The Plastiscines sing in their native tongue.
Patrick Wolf headlines, while Living Things and Jaguar Love also play.
— Terrence Flamm
Category: Stage Buzz, Weekly