Varshons
(The End)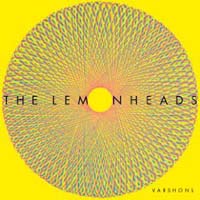 Do di-do-do do-do do-do, di-di di-do-do. What's that you say Mrs. Robinson . . .

Appearing: June 19th and 20th at Double Door in Chicago.
Say what you will about It's A Shame About Ray or Evan Dando's jawline, The Lemonheads made their name on "Mrs. Robinson." Their grungy cover tied a neat bow around early-'90s white-boy rock: We have good taste, but don't really care that much. How is it they finally compile their own covers album, 20 years later? Well, there is this summer's tour, which is as good a time as any to sing other peoples' songs. Otherwise, the band put as much effort into Varshons as they expect you to in buying it. Things start brightly with Gram Parsons' "I Just Can't Take It Anymore" and Wire's "Fragile," but by the end of Townes Van Zandt's "Waiting Around To Die" you'll be waiting yourself. Your CD deck might actually vomit in the middle of "Dirty Robot," a cut by Dutch DJs Arling & Cameron, but the provenance isn't the trouble, it's the guest vocal by supermodel Kate Moss.
3
— Steve Forstneger
Click here to download "Waiting Around To Die."