Savath Y Savalas | Diamond Watch Wrists
La Llama | Ice Capped At Both Ends
(Stones Throw | Warp)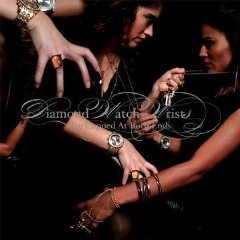 Guillermo Scott Herren (not the activist poet Gil Scott-Heron) has never been shy to record as much as he wants, using as many aliases as he needs. But 2009 has been unprecedented. On April 14th, he released Everything She Touched Turned Ampexian under his most common handle, Prefuse 73. A fortnight later he and Zach Hill (Hella) debuted as Diamond Watch Wrists and on May 12th unveiled his latest collection as Savath Y Savalas.
To his credit, there's not a lot of overlap. This might be a warning to anyone romantically involved with Herren, because he won't make the mistake of shouting the wrong person's name during sex. His Supreme Glitchiness has crafted mostly languid, soothing grooves for both Savath and Diamond. La Llama is the next logical progression as he continues exploring his Catalan roots, with Eva Puyelo-Muns taking his score in her hands and breathily guiding the album through Barcelona. Ice Capped At Both Ends isn't nearly as blinged-out as its album cover suggests. Far from chic discos, Herren and Hill sound as if they've been listening to a lot of Beta Band and Incredible String Band, dancing around a hillside bonfire in Celtic robes before falling to the ground and streeeeeetching out. "Taped Up Swagger" ought to be checked for back-masking and subliminal messages – whatever has possessed Herren lately might consume you as well.
6 | 7
— Steve Forstneger