Congress Theater, Chicago
Sunday, May 31, 2009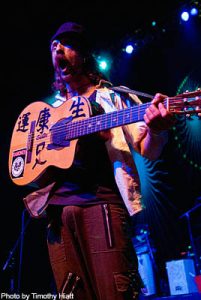 Spectacle comes second nature to the New York-by-way-of-Eastern-Europe collective known as Gogol Bordello. Whether it's mustachioed, red-wine-swigging frontman Eugene Hutz dizzily stalking the stage like a deranged Lord Of The Dance (donning a sequined sombrero no less), violinist Sergey Ryabtsev making a case for landing a part in the next "Fiddler On The Roof" revival, or dancers/percussionists Elizabeth Sun and Pamela Racine sporting matching little black dresses while wielding marching band-issue instruments, the band excels in creating a flamboyant, fist-pumping atmosphere that dares to overshadow the music.  
Actually, Gogol Bordello's cult of personality does put the music in the passenger seat. The sweaty throngs at the Congress Theater Sunday night blindly followed Hutz's lead and embraced his gypsy-punk aesthetic without caring too much for nuance. Not that Hutz and the crew delivered much ebb and flow. The two-hour set consisted of in-your-face, pummeling fare that made mince-meat of the band's "talking 'bout a revolution" lyrics – which, thanks to the Congress' acoustics, never had a chance.   
New song "Educate Thy Neighbor" spoke of Turkey losing its cultural legacy to make way for urban sprawl, but Tommy Gobena's blood-boiling bass transfixed the attention far from the Middle Eastern region, while "Illumination" reverberated though the theater like a bat outta hell thanks to the one-two punch of Ryabtsev's fiddle and Yuri Lemeshev's accordion. "Alcohol" injected some heart into the proceedings – or as much affection as an ode to the drink warrants – as "Baro Foro/Undestructable" made classic "Tom & Jerry" chase scene accompaniment seem tame in comparison.  
Prone to setting up shop in Chicago across multiple nights, Hutz apologized for the band's swift engagement and promptly scaled a bass drum held up by the first few rows. Now that's trust. Or maybe it's just indicative of the absence of the fourth wall between stage and pit?  
—
Janine Schaults
Category: Live Reviews, Weekly