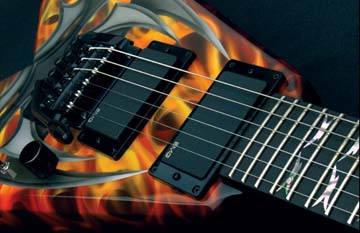 B.C Rich
Kerry King V Generation 2
B.C. Rich and Slayer guitarist Kerry King have teamed up to assemble two new guitar models for collectors and first-time players. Bill Xavier, vice president of B.C. Rich, was a proud papa when speaking about this new collaboration with King. "Kerry has an innate understanding of his fans and what they want in a guitar. With our design teams, we're able to bring these products to life." The Kerry King V Flame Generation 2 features a two-tone tribal logo over a flaming background image, while the Kerry King V Metal Master Generation 2 creates the same vibe with gloss black finish. Both guitars serve up a Kahler X-Trem tremolo unit, 24-fret ebony fingerboard, beveled body top, black hardware, and B.C. Rich Active pickups for a list price of $569.99. The V Metal Master guitar utilizes a wrap-around bridge, 24-fret Rosewood fingerboard, beveled body top, chrome hardware, and B.C. Rich BDSM humbucking pickups all for an entry level price of $399.99. Visit www.bcrich.com for more.
SONOMA WIRE WORKS
FourTrack
It's a long way from Tascam's original Portastudios. With thousands of discounted applications for the Apple iPhone, the Four-Track multi-track audio recorder has been updated to version 2.0, and it now offers basic 4-track recording plus bounce, duplicate, and a metronome. The metronome settings also include three beats by celebrity drummer Jason McGerr on his signature Lud-wig kit recorded in his Seattle based studio, Two Sticks Audio. Other sounds (Block A, Block B, High Hat, and Pop) are samples of live drums and percussion courtesy of Discrete Drums, the original multi-track drum library. Time signatures include 3/4, 4/4, 6/8, and X/4. FourTrack was developed by Sonoma Wire Works, and is available in the iTunes app store for the introductory price of $9.99. For more information, visit www.sonomawireworks.com/iphone/fourtrack.
HOTTIE PICKUPS
Bettie
Expanding on their toaster-style guitar amplifiers, Hottie's new Bettie Pickups offer guitarists clear highs, boosted midrange, and a thick bottom end. Hottie says "players who need authentic vintage tone with increased output and sustain will love our 'Bettie.'" Bettie serves up a "hot and creamy tone," but with clarity and presence for an exceptional soloing experience. Available with plain or flamed covers or in nickel or chrome, Bettie's features include Alnico II Magnets, Wax Potting, Vintage Correct Enamel-Coated Wire, and 4-Conductor Wiring. Custom options are also available. Hottie Pickups are made in the U.S.A. Prices start at $139. Visit www.hottieamps.com to see pictures of Bettie.
RIVERA
SilentSister
Rivera Amplification believe they've solved "one of the greatest challenges to home and studio recording," by getting great amplified guitar tone and being able to record at a low levels. Rivera's SilentSister recording speaker cabinet eliminates air pressure issues during studio recording by building an exclusive air labyrinth and unique angles to make studio sessions easier on the player and the engineer. The SilentSister comes standard with two pre-wired microphone goosenecks including Neutrik XLR connectors. Also included is a Celestion G12T-75 speaker housed in a heavy-duty plywood cabinet finished in black Nyflex carpet and built-in casters for easy transport. The SilentSister is ideal for home and studio recording, and small night clubs, basement rehearsals, and cafés where you need to reduce the on-stage level and put it through the PA system or create a recording environment. Get the Silent treatment for $999. More details are available at www.rivera.com.