Soundstage, Chicago
Tuesday, May 12, 2009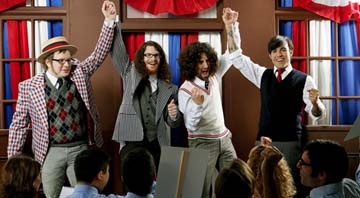 When Death Cab For Cutie hit PBS' "Soundstage" program last month, it proved a sensible pairing. Coming out of their time as acclaimed indie darlings, the group has grown into a band that seems practically designed for a sensible setting like "Soundstage," all traces of college rock replaced by predominantly midtempo adult alternative. So it was somewhat surprising when the next band to take the WTTW program's stage turned out to be none other than pop-punk headliners and headline fodder Fall Out Boy.
Except that Fall Out Boy have grown up, though not everyone might have noticed. It would be easy enough to miss; it's likely bassist and gossip topic Pete Wentz ends up in more celebrity stories than music features, and a tour with Warped-genre acts like Metro Station and Cobra Starship could certainly suggest otherwise. Yet it's difficult to argue with the material the group presented during an extended set before a group of young, braces-aged fans and older select Mastercard cardholders, all gathered in the "Soundstage" studio for a somewhat surreal performance.
Understandably, the set covered many of the group's well-known hits and standards, including the chugging guitars of "Sugar, We're Going Down" and the classic '90s alt-rock riffs of "This Ain't A Scene, It's An Arms Race." More than anything, the selections showcased guitarist Joe Trohman's exceptional skill, and just how much of a driving force it is in propelling the group's power-pop forward. Yet, while the band's more recognized and hook-laden material garnered enthusiastic crowd responses, deeper and more recent album cuts ended up proving the most accomplished selections of the evening.
Fall Out Boy's late 2008 effort, Folie à Deux, proved a more mature effort for the group, and the album's strongest selections performed similarly live. Highlights included "(Coffee's For Closers)," notable for coming across so upbeat while delivering starkly contrasting lyrics, while the markedly more soulful "What A Catch, Donnie" moved into ballad territory, prompting the front crowd to sway their arms along to the rhythm. As it built, the song achieved an impressive crescendo, with Trohman sneaking in impassioned improvs and drummer Andy Hurley, all flailing limbs and hair, keeping a pounding beat as frontman Patrick Stump crooned out the song's call of "I've got troubled times and the self esteem to match," before the song collapsed on the heels of a string of recorded guest vocalists.
Between selections and during the program's tape changes, the band provided their trademark witty banter, with Wentz pinning his gravity defying cowlick on mischief on his mind. The group also made repeated references to their hometown, with Stump giving love to the Chicagoland area, as defined by an old Empire Carpet ad's specifications, before later dedicating "America's Suitehearts" to the suburbs.  
In addition to a sizable set visiting all eras of the group's catalogue, the event was also notable for being filmed for Soundstage by one camera in 3D, though it's not yet clear what purpose that footage will ultimately serve. For more information on Fall Out Boy on PBS' Soundstage, check out the program's website. The episode will air July 23rd at 9 p.m.
— Jaime de'Medici
Category: Live Reviews, Weekly