To Move Or Not To Move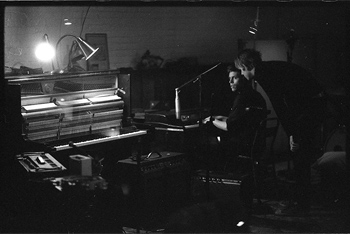 Drink me, eat me. Eat me, drink me. Drink eat drink eat drink eat. If only the music industry were so cut and dried that artists could simply nosh to determine whether they'd go large or small. It would certainly save a lot of heartache.

Appearing: May 31st at Do-Division Fest and July 9th at Empty Bottle in Chicago.
Only a couple of years have passed since White Rabbits had to decide to go big or stay little. They chose New York City.
"It's a tough thing to convince six guys to do together," vocalist/pianist Stephen Patterson says with a laugh. "There's a lot of advantages to being a band in New York City, there's also a lot of advantages to being a band in the Midwest. [The latter] is a lot cheaper. But a few of us had just finished school, so it was that sort of time in our lives where you move on – move on to something else."
So goodbye Missouri, hello Big Apple. Choices haven't always been easy since then, but so far it appears White Rabbits' instincts are sharp. As far as navigating Wonderland, going in fresh appears to be the way to do it. "We didn't face that problem where you have your entire life to write your first record, and six months to write your second," he says. "We didn't because we ditched all of our old material when we moved to New York." And so the East Coast branch has yielded two spry, if jumpy albums: 2007's Fort Nightly (Say Hey) and this spring's It's Frightening (TBD).
Moving is as central a theme to White Rabbits' story as Alice In Wonderland, because something always seems to be happening in their songs. The by-product of a voracious musical appetite that has made an indie-rockin' rally point of The Specials (It's Frightening's second track is called "Rudie Fails"), the moment's rare when one of the six isn't distracting the mix. A thundering drumbeat that carries "Percussion Gun" recalls Alex Van Halen's thumping to open "Hot For Teacher," even the creeping "Midnight And I" spins a web of vocal harmonies, crackling-speaker guitars, and an insistent four-note piano riff. The clatter that agitates "They Done Wrong/We Done Wrong" is partly the doing of another cook in the kitchen, Spoon's Britt Daniel.
Drafted as a producer, Daniels' role was to fatherly support the band as they put their next kit car together – their first having satisfied the requirements for his continued interest.
"It's an anxiety-ridden period of time," Patterson says, "doing your second record. Doing something with even mild anticipation is completely different than what we were looking at with the first record. We didn't expect anyone to listen to it at all. [Britt's] biggest contribution, for me, was just giving us confidence in the material. Early on, when we were writing, it means a lot getting a stamp of approval from that guy. We've all been fans of his music for awhile. We wrote faster, we wrote better songs because of it."
If Spoon coached every band they met on the road we'd be neck-deep in raspy-voiced pop deconstructionism, but a mutual-admiration society formed after some shows with White Rabbits. "At first it was just we were fans," Patterson explains. "I became friends with Eric Harvey, who plays keyboards in Spoon, and we stayed in touch when we were on the road. Spoon were in town one night, they were off so they came to our show, and we hit it off. Then we went on tour together."
A young, impressionable band rolling with their heroes . . . that's a dangerous thing.
"I wasn't worried about any ambiguity or people mistaking us for Spoon, he says, brushing the question aside. "I feel like the two bands do fairly different things. We're both rock bands, I suppose that could cross over; [Daniels] has piano in his music and we do in ours.We all felt a connection with all of those guys, not only musically but friends. It just seemed like the right idea to work together."
— Steve Forstneger
For the full interview, grab the May issue of Illinois Entertainer, available free throughout Chicagoland.