Sweet Home
Steppin' Out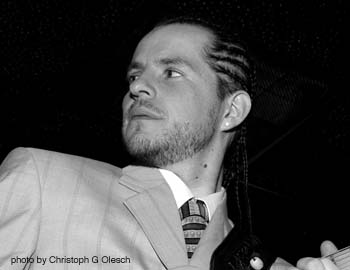 If you have been out on the town over the past year or so, hanging out at premier blues and jazz clubs such as Andy's, Buddy Guy's Legends, or House Of Blues, you may have happened upon up-and-coming guitarist/ vocalist and songwriter Guy King. King is a young guitar master with limitless musical potential. Coloring outside the often rigid blues lines, he brings his organ duo to Andy's once a week, plays the early acoustic set at Buddy Guy's regularly, and frequently brings his band to the Back Porch Stage at HOB. A former road dog, King traveled the world for six years with bassist Willie Kent, who passed away in 2006. King decided to strike out on his own, and is building on the reputation he developed while with Kent both locally and around the world.
King went into the studio last July to record his first solo CD, Livin' It (BF). The title track is an uptempo groove, with a socially conscious message. Guy takes on current ills, including war with incisive lines like "Talking about religion, talking about land/One brother's fighting another/For reasons they don't understand." He makes the distinction between hearing about the conflict and enduring it with the refrain, "We read about it in the paper and we see it in the news/But we're livin' it/Lord knows we're livin' it."
King's songs combine jazz, blues, soul, and gospel licks, with sharp, soulful lyrics. The blue mood of the horn-driven "Alone In The City" has shades of Duke Ellington, coupled with a stinging, Albert King-inspired guitar solo. Kings' expressive voice — with its echo of Robben Ford — is particularly suited to singing jazz, and brings a contemporary edge to more traditional material. The five original tunes on Livin' It are interspersed with songs by T Bone Walker, Percy Mayfield, Little Johnny Taylor, and Big Maceo, reflecting King's diverse musical tastes.
With Livin' It, King is on his way. He is an uncompromising talent who brings a refreshing and original approach to well-worn musical forms. If you haven't already done so, I suggest you check him out at his various gigs around town.
MR. G. AND THE MYSTERY BAND: It's A Mystery is the title of the debut solo CD by Mr. G And The Mystery Band, which is led by harp man/vocalist/songwriter Chris "Mr. G" Gillock. "Investment banker by day, musician by night," is how Gillock describes himself on his blog, "Mr. G's Thoughts For Free." The Mystery Band was born in impromptu fashion when Gillock offered to put a group together to perform at Bill's Blues in Evanston on Thanksgiving night in 2003. It has undergone a number of transitions since then, but the core of the band has coalesced around a group of stellar musicians that include guitarist Anthony Palmer (full disclosure: my husband), bassist Greg "E.G." McDaniel, guitarist Osee Anderson, and drummer James Carter.
The original concept of The Mystery Band was to bring Chicago's finest blues musicians together to jam and have a good time. But you can't keep a good band down. The sheer firepower in the band led to a local following at clubs like Morseland in Chicago and C.J. Arthur's in Wilmette. The logical next step was to go into the studio, where It's A Mystery was born.
Mr. G. is the harp-playing vocalist, songwriter, and impresario who holds it all together. He wrote the 11 tunes that comprise the CD, featuring blues, funk, reggae, and New Orleans soul. He is a cutting songwriter whose often humorous lyrics are reminiscent of musical satirist Tom Lehrer. On "Get Out And Walk," a folksy tune with its Sonny Terry-inspired harmonic opening, he addresses the high price of gas and a public who don't have a clue: "Well gas is $4.50 a gallon, gonna cost a lot more soon/You complain while you're driving your big old Hummer/And man what the hell you doin'?/Get out and walk, ride a bike, get on the bus." He bemoans being levied to death on the slow blues "Paying Taxes," which includes a fierce, in-the-basement guitar solo by Palmer. The title track is a Junior Wells-inspired groove that explores the mystery behind human behavior of all kinds along the lines of "Why can't we all just get along?" Anderson and Palmer wail on this one, complementing each other's playing with their different but equally compelling blues approach. The rhythm section of McDaniel and Carter is solid throughout, especially on the funky "Me And My Dog," a semi-humorous song about the pain of divorce: "When I first met my wife, I thought she was fine/But the longer I live with that woman, the more I love my canine . . . /but now she's gone and I must confess I feel dead inside." Despite the occasional foray into the serious, Mr. G And The Mystery Band are all about the fun. Their promo material should read, "For a good time, call. . . "
IN MEMORIAM: West Side harmonica great Lester "Mad Dog" Davenport passed away on March 17th after a battle with prostate cancer. Davenport was a well-respected figure on the Chicago blues scene. He made fans and friends worldwide in his travels with Big Daddy Kinsey and The Kinsey Report, and Willie Kent And The Gents. Davenport achieved notoriety early in his career when he recorded with Bo Diddley on the 1955 records "Pretty Thing" and "Bring It To Jerome." Davenport had success as a solo artist as well, recording two albums, When The Blues Hit You (Earwig) and I Smell A Rat (Delmark).
West Side bluesman Willie Davis succumbed to cancer on March 25th. Davis was an underrated guitarist who played in the gritty, soulful, and deeply blue West Side style. He also played with Kent, as well as Johnny B. Moore and others.
— Beverly Zeldin-Palmer
Category: Columns, Monthly, Sweet Home