Chicago Theatre, Chicago
Tuesday, May 5, 2009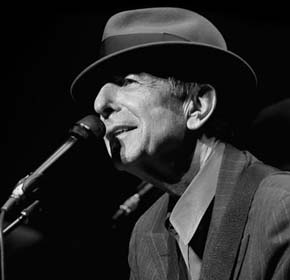 With 15 years since he last performed on American soil, it's no wonder why Leonard Cohen's pair of Chicago Theatre shows are amongst the most anticipated of the year thus far. Though fans were given a sneak peak of the set list via the CD/DVD collections Live In London (Columbia), they provided only a glimpse of the greatness that the troubadour turns in on tour.
While he's unquestionably one of the greatest songwriters of all time (covered by the lauded likes of Jeff Buckley, Willie Nelson, Johnny Cash, Joe Cocker and Bono, amongst countless others), Cohen was remarkably humble and soft-spoken on stage. After politely tipping his hat (to overwhelming applause), the sold out audience gained its composure, allowing the storyteller to share over forty years of sophistication, sexual yearning and spiritual seeking.
At 74, Cohen's finally caught up to the wisdom-filled words he began weaving in the late 1960s, though each suave turn of phrase remains relevant right here and now. "The Future" was an early presentation where the mastermind warned of forthcoming doom and gloom, "Ain't No Cure For Love" spoke of unshakable attraction, while the freedom seeking "Bird On a Wire" served as a masterful country/blues hybrid.
"Everybody Knows" found the enduring performer switching from straight ahead singing towards a deep-throated storytelling bellow, which was clearly responsible for shaping the future stylings of Lou Reed and Nick Cave. His gruff croon (an acquired taste for some and cherished by others) also brought the gentle ballad "Suzanne" to haunting realization. "Boogie Street" soon showcased his jazzier side, highlighting soulful vocalist Sharon Robinson (who also wrote the track).
His accompanying singers (which also included folk duo The Webb Sisters) were just part of a superior six-piece backing band that helped springboard Cohen's material to additionally transcendent heights and he often acknowledged those session players' polished skills. Even if he didn't need any help to make a fresh rendering of "Hallelujah" any more memorable, the song soared with gospel-like harmonies and the originator's smoky confidence.
The two act show included a few more numbers (ending with the ethnically-influenced "Take This Waltz") before embarking on several extensive encores that put the marathon evening just past the three hour mark. The generous spread continued with the harmonica-doused love lament "So Long Marianne," the cocktail swinger "First We Take Manhattan" and the politically potent "Democracy," all of which demonstrated additional instrumental and topical diversity.
Although Cohen more than convinced the crowd of those treasured talents, he left the stage once again and returned to deliver "I Tried To Leave You," subliminally suggesting he was having too much fun to actually call it a night. After presenting his poetic portion of the track, the band jammed in jazzy fusion for over eight minutes of free flowing abandon. Yet the marathon wound down on an a cappella note alongside the entire cast for "Whither Thou Goest," capping off the extraordinary experience with magnificent melodies and the magical expository expression that can only be Leonard Cohen.
— Andy Argyrakis
Category: Live Reviews, Weekly