Eagles
Sears Centre, Hoffman Estates
Thursday, March 26, 2009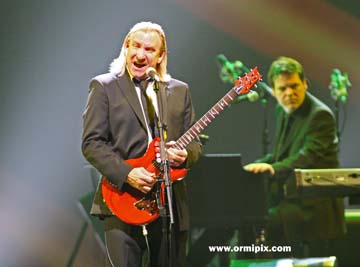 I haven't thought of the Lanky Blonde — the older sister of a high-school buddy — in a long time. But, when the Eagles of my youth, all put back together and looking rather dapper in dark suits, took to the stage Thursday night, there she was. She was an Eagles freak: read-all-the-liner-notes, knew-the-order-of-each-song-on-the-album Eagles freak.
They started out, typically late: taking the stage at the Sears Centre at 8:20; cranking out three songs from Long Road Out Of Eden before getting into what really pays the bills. With Glen Frey acting as ringmaster, he engaged the full house as if he was in a night club, not in front of 10,000. Early on, this was not to be a high-stepping, bounce-around-the-stage concert. Rarely did they leave the comfort of the mic stands as if, as they originally were, a band banging out hits in a Los Angles studio.
Don Henley was impressive in every way, moving from vocals to drums and guitar like an old pro just out for a fun night. Sporting a Mike Ditka-like hair cut, Henley could have been just playing to the audience, but, intended or not, he looked like he could help the local team if needed. He was at his best pounding out and singing "Witchy Woman" midway through the first set.
Timothy B Schmit and Joe Walsh, at opposite ends of the stage and spectrum, stood out and shined in their own way. Walsh, always solid on guitar, was backed by a powerful horn section on "In The City" and sold it like it was the last song he was ever going to belt out.
The band jumped through 11 songs before the 20-minute intermission. It let them rest their pipes, but also gave a convenient bathroom break for a mostly baby-boomer audience.
With a band who have been making music since 1975, it's good to see our aging rockers aren't in tune all the time. Live performances aren't perfect and that's the uniqueness of the experience. These guys have been playing so long one can't help but wonder what they think when, back in the day, flames flickered from Bic lighters to now when all you see is a glow of cell phones lighting up smoke-free arenas. But then, back in the '70s, could you have pictured any of these guys in suits?
The band loosened up as the night wore on and finally, after 19 songs, the coats came off. Free from the unseen ties to the microphone stands, they seemed to kick into another gear. Walsh shined on "Life's Been Good," followed by a full-political, multi-media beatdown issued by Henley on "Dirty Laundry." With a 29-song, three-hour experience, no one left feeling they didn't get their money's worth.
Credit the Sears Centre with concert-hall acoustics that helped make the night a success. This performance came off as if you were sitting in your living room with the surround sound cranked to 11. The two huge video monitors balanced the half-moon screen that spanned the stage that made this into a multi-visual experience. Couple the background videos that complemented each song, you could just plug this performance into a classic rock cable show.
While the Eagles pushed the new songs on a disc that is certified several times platinum, the seats are full because of the classics. They bring back the sounds of simpler times, free of responsibility and the day-to-day drags that kills the "Rocky Mountain Way." So when the band ended the night with "Desperado," it was just like it was the '70s. I could still see the Lanky Blonde prancing about, humming the words while her brother and I helped her old man try and restore his vintage Triumph. I don't know what happed to the car, or her brother, but I've got to think she was there, if only in spirit.
— Brian Ormiston
Category: Live Reviews, Weekly