Shiny Toy Guns
Gallery 1028, Chicago
Thursday, February 26, 2009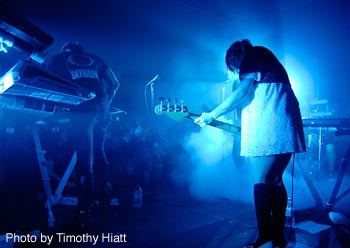 Click here to see more Shiny Toy Guns live pics.
It can be nearly impossible to keep a secret in our leak-friendly world these days, but Grammy-nominated dance rock act Shiny Toy Guns decided to try it anyway. In a cross-promotion with NBC, they offered a "secret concert" at some undisclosed time and location in the city. The only way to get in was to be one of the first 10 people each day to answer a Chicago trivia question correctly on NBC Chicago's Web site (or to be one of the lucky media people to cover it).
The details were finally disclosed Tuesday the 24th, with instructions to meet at a loft with a password. Gallery 1028, which is literally a small portion of a giant warehouse buried on the city's North Side, hosted no opening acts — unless you count the DJ spinning thumping house tunes for two hours leading up to the show.
STG came on about 11 p.m. and played just short of an hour to an intimate crowd. Despite the simple, small venue, the band managed to create a rock-show environment with plenty of lights (including way too much seizure-inducing strobe), fog, and even a full-sized video screen playing animation designed specifically for their music.
Overall, the foursome nailed their short set, rocking through tracks off both their debut album, We Are Pilots and the recently released Season Of Poison, (Universal Motown) giving equal time to both. The problem was, they may have rocked too hard too early. With all of their most raucous and recognizable tunes, including new singles "Ghost Town" and "Ricochet" and breakout hit "Le Disko," out of the way, their slower and more ethereal songs eked out the second half of the show. In fact, some of the crowd seemed to dissipate after the first few hits were played.
For being a relatively inexperienced band, the Los Angelinos showed they possess the talent to headline. Lead singer Chad Petree was spot-on with his vocals all night, which is more impressive considering how much time he has to spend in his falsetto. New member Sisely Treasure brought her intensity to every part of the show, whether she was rocking the keys, playing bass, belting out choruses, or just playing the role of on-stage dancer — answering any question about whether she can fill the shoes of the departed Carah Charnow. Her energy, style, and attitude were reminiscent of an emerging Gwen Stefani.
STG obviously rely on synth and digitized voice effects, and thanks to their three-keyboard setup and specialized mics, they were able to reproduce every one of them live. The crowd never seemed to really let loose during the show, however, instead seeming more interested in simply observing and processing the band's offerings. STG were at least smart, though, to play a short enough set to accomplish a major feat with live shows — leave the crowd wanting more. And they did prove the show to be a secret worth keeping.
— Carter Moss
Category: Live Reviews, Weekly