Graham Nash
Still Young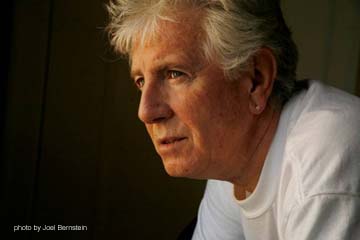 Crosby, Stills, and I were at my house in Hawaii for the past 10 days rehears- ing a new record," Graham Nash says from a New York hotel. Tentatively titled Laurel Canyon, it will be the first CSN effort composed entirely of cover versions. The concept came from their label, Columbia. "They want that vocal sound, which obviously is reminiscent of the '60s, " Nash explains, "on songs that we wish we had written. And so far it's going very well."
Plus, it circumvents a songwriting problem that has dogged the trio throughout its career.
"In an effort to keep this band as equal as possible for as long as possible, I always wait for four Crosby songs that we love, four of mine that we love, and four of Stephen's that we love to make a balanced album," Nash maintains. "But because David writes at a much slower pace than us, we have to wait and that's why we haven't done a lot of albums. The brilliance of the Columbia idea is that it takes that completely away."
One downside of Laurel Canyon is that it will leave Nash little time to promote his own stuff. With the Reflections box set following closely on the heels of a remastered version of his 1970 debut, Songs For Beginners, the time seems ripe to embark on solo tour. But so far, he only has a single performance on his plate.
"I have to fit it in with me and David and Stephen making a record and plans to go on the road, because of course, this is our 40th year," Nash says. His 27-year-old daughter suggested a gig near her home – the California town of Grass Valley, which has a thriving music scene.
"She wants me to do a show that consists of me walking out there with a band and playing Songs For Beginners right the way through, track by track," he says, "and take an intermission and then do all of [second solo album] Wild Tales."
Forty years after he joined rock's most enduring supergroup, Nash enters 2009 with high expectations. Reflections (Rhino), a three-disc retrospective including his work with The Hollies, various incarnations of Crosby, Stills & Nash, as well as his solo efforts, was released in February. America now has a president he likes, and CSN will mark its anniversary with a new CD that offers an unusual twist.
It would be a shame if Reflections got lost in the shuffle, however. In addition to offering the hits "Marrakesh Express," "Teach Your Children," "Wasted On The Way," "Just A Song Before I Go," and "Chicago," it gives lesser-known tunes like the country & western-flavored "You'll Never Be The Same" and the stark but powerful "Liar's Nightmare" exposure to a larger audience.
Reflections underscores the artist's long-time commitment to important issues. "Barrel Of Pain" criticizes the dumping of nuclear waste off the West Coast, "Chippin' Away" commemorates the crumbling of the Berlin Wall, and "Field Worker" demands respect for migrant workers. The question arises as to how Nash goes about writing songs like these and "Wind On The Water."
"Let me set the scene for you," he obliges, vividly recalling an extended sailing trip he took with Crosby. "It was my first sail. On that journey, I saw a blue whale. It was insanely lucky to even come across a creature that washalf again as long as David's boat, and David's boat is 70 feet. That's why I wrote 'Wind On The Water,' because we were killing these things, apparently for food, which sounds preposterous."
Reflections also highlights Nash's ability to create melodic portraits of personal relationships. "Simple Man" and "Our House" describe his late-'60s involvement with Joni Mitchell, while "Magical Child" celebrates the joy of having his first baby with wife Susan. "I'm a very ordinary person in many ways," Nash reflects. "Yes, I'm relatively well-known for a couple of things that I've done. But I want an easy life. There's enough chaos in this world, enough bad feeling, that a simple smile to a stranger can go a long way."
Still, one wonders if Nash has an easier time penning a politically charged call-to-action or a tribute to Susan, to whom he has been married for 33 years.
"I never think about what's easier or harder to write," Nash responds. "I'm just lucky that these ideas come to me. To people that have no background in music at all, the art of songwriting must seem magical. Where the hell does it come from? I don't know. I'm just happy I can't stop writing."
— Terrence Flamm
For the rest of the interview, grab the March issue of Illinois Entertainer, available free throughout Chicagoland.