Bell Orchestre
As Seen Through Windows
(Arts & Crafts)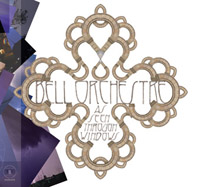 Step right up, step right up! Gather 'round and see if you can guess what the new Bell Orchestre albums sounds like! Need a clue? The band are from Montreal! They've toured with The Arcade Fire! It was recorded at John McEntire's Soma Electronic, here in Chicago!
In truth, the first two hints won't get you anywhere — the third only slightly. As Seen Through Windows is modern classical music that touches on rock and post rock, the same way a jazz or hip-hop record could. Now, this isn't to vault Bell Orchestre into the realm of Terry Riley or Frank Zappa; the air-raid siren that sends "The Gaze" to the fringes of rock sanity establishes that. But compositionally, the band are subtlely complex, chasing Charles Mingus ("Dark Lights"), gazing with the child-like wonder of Sigur Rós ("Icicles/Bicycles"), and recreating city-street gridlock ("Bucephalus Bouncing Ball") without a fuss. Put forth a better guess and you might win a prize!
7
— Steve Forstneger
Click here to download "Throw It On A Fire" from 2005's Recording A Tape The Colour Of Light.