And You Will Know Us By The Trail Of Dead
Logan Square Auditorium, Chicago
Friday, March 6, 2009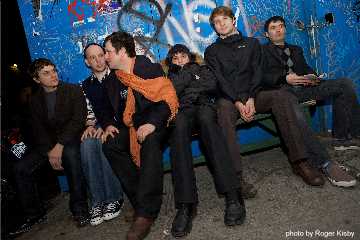 When And You Will Know Us By The Trail Of Dead released Source Tags & Codes, their 2002 major-label debut, it appeared the group would stand as one of the new millennium's premiere art-rock darlings. Yet underwhelming response to 2005's Worlds Apart and the following year's So Divided dampened the hype. Thus, it's understandable that the act's latest effort, The Century Of Self, sounds more like Trail Of Dead circa-2002 than ever.
Trail Of Dead hit Logan Square Auditorium behind Century, and if the group's live show follows the record's return to form, attendees should be find themselves more than satisfied. As a record, Century is a mixed bag of sounds and approaches, and it should prove interesting to witness live. Entirely epic and densely layered throughout, the effort excels at providing distinguishable ambitions and mixing multiple genres in a single song, from the crashing waves of "Bells Of Creation" to big, blustery melodies hiding smaller, quieter moments, like the mid-song ending of "Isis Unveiled." "Luna Park" further explores intimacy, while the album bows out on a waltz, with the cabaret-influenced "Insatiable Two."
Century Of Self succeeds in recapturing the better elements of Trail Of Dead's discography, without feeling like a desperate grab at earlier accomplishments. Live, it should translate even better, if not much wilder.
Funeral Party and Midnight Masses open.
— Jaime de'Medici
Category: Stage Buzz, Weekly