Sound-alike syndicated shows have never gone over very well in The Windy City, where the preference for personal and authentic media dates back to the Chicago School Of Television. It emerged in the 1950s as a spontaneous, informal genre typified by shows such as "Garroway At Large," "Kukla, Fran & Ollie," and "Studs' Place." Look magazine described it in 1951: "It's been called relaxed, intimate, friendly, natural, subtle – but the main thing about the 'Chicago School' Of TV, more widely copied in higher-priced, higher-pressured areas, is this: The viewer doesn't always know what's going to happen next and next and next."
The open-ended talk program "Kup's Show" continued the tradition, as did Siskel & Ebert's bare-bones "Sneak Previews" and "Soul Train," which started in a South Side basement. Many of our Reasons To Be Cheerful picks – including "Chic-A-Go-Go," "This is Hell," and "JBTV" – also qualify. So do Chicago's greatest radio shows – including Steve Dahl and Garry Meier's in their heyday and Ira Glass and Gary Covino's old WBEZ-FM (91.5) show, "The Wild Room."
A fine example of that type of spontaneity is "The Eclectic Company," which is presided over by rotating musicians/ hosts Jon Langford and Nicholas Tremulis Tues-day nights from 10 to midnight on WXRT-FM (93.1). Guest hosts have included Steve Albini, Beck, John Doe, Alejan-dro Escovedo, and Robyn Hitchcock. In-stead of pushing their new albums, guests simply play their favorite records and talk about them. As Langford once explained, "This is the opposite [of] what commercial radio has become, which is to repeat the familiar. Plus I get to sit around and talk rubbish with my favorite musicians."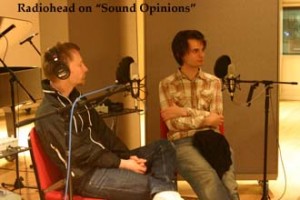 Chicago Public Radio's "Sound Opinions" (Fridays at 7 p.m. and Saturdays at 11 a.m.) continues the "Sneak Previews" dueling-critics tradition, as the Sun-Times Jim DeRogatis and the Tribune's Greg Kot duke it out over music on "the world's only rock 'n' roll talk show." There are also guest interviews, theme shows, and trendspotting. Plus there's a segment where listeners – who come off as incredibly bright, even for public radio – put in their two cents.
We love how nimble and relevant live, local radio and TV can be – such as WBEZ-FM's public-affairs magazine "Eight Forty-Eight" (weekday mornings from 9 to 10). On the same morning flames engulfed Holy Name Cathedral, co-host Richard Steele interviewed Chicago cultural historian Tim Samuelson about the church's cultural and historical significance. To have pulled the show together while the cathedral was still smoking is what local radio is all about (full disclosure: My essays used to air on the show).
WTTW-Channel 11's "Chicago Tonight" (weekdays at 7 p.m. and repeated the next day at 12:30, 4:30, and 9:30 a.m.) is another live show where experts dissect local news on a nightly basis; the hour-long format allows host Phil Ponce and his guests enough time to offer more than just perfunctory coverage. The night before the Illinois House impeachment vote, Ponce featured an informed and lively discussion with former Illinois Comptroller Dawn Clark Netsch, DuPage County State's Attorney Joe Birkett, and WBBM-AM political analyst Bob Crawford.
You never know whether you'll hear an interview with an author, artist, musician, actor, or former president on WGN-AM (720)'s "Extension 720 With Milt Rosenberg" (weeknights at 9), which remains one of the freshest shows on the radio despite dating back to 1973. Topics have ranged from Aztecs to international terrorism to the state of childcare. But it's thanks to the author and University Of Chicago professor of psychology's amazing ability to turn even the most trenchant subject matter into something relevant.
We have high hopes for WTTW's "Rewind With Anna Davlantes," in which the NBC5 anchor discusses trends and current events with a diverse cross section of everyday Chicagoans (which somehow includes KISS-FM 103.5 morning host Drex). The episodes we saw were vibrant and fast-paced, as locals discussed everything from identity theft to dog cloning to housing the homeless in foreclosed homes. At press time, the show's future was up in the air; view past episodes at Wttw.com.
ODDS N SODS: The switchover to digital TV has been postponed until June 12th, which means there's still time to get a government-subsidized converter box up and running. Visit www.dtv2009.gov or call (888) DTV-2009 for coupons. A box with "analog pass through" will allow you to continue receiving analog signals . . . Freak, who was recently fired from his post as program director and DJ at south suburban WRXQ-FM (100.7), is back on the air weekdays from 2 to 7 p.m. and Sundays from 10 a.m. to noon . . . The death of longtime late-night radio king Eddie Schwartz sparked an almost poignant Chicago Tribune tribute by none other than Steve Dahl – who used to mercilessly poke fun at the former WGN stalwart. It also brought back former Chicago Sun-Times media critic Robert Feder for a wonderful obit in which he said "his passion for Chicago and concern for others were matched only by his oversized girth." We'll miss the Chicago original – just as we miss hearing Dahl on the radio and seeing Feder in the paper. You can listen to Schwartz's old WIND show on Chicago-based Talkzone.com . . . The Museum Of Broadcast Communications may not have a bricks-and-mortar home, but its online archives boast thousands of hours of digitized radio and TV shows, from Johnny Cash's 1964 appearance on WGN's "The Barn Dance" to Aaron Copland appearing with the Chicago Symphony Orchestra. Visit www.museum.tv.
– Cara Jepsen