IE Rates 2008:
Our Best Ofs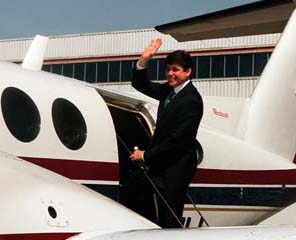 Click below to see our choices for top albums, songs, DVDs, reissues, and shows, and don't forget Trevor Fisher's "Caught In A Mosh,"David Gedge's "Gear," and Beverly Zeldin-Palmer's "Sweet Home" columns, as well as our "Best Of Around Hear."
ALBUMS
1. Rod Blagojevich Federal Affidavit (Effing Golden)
2. Nick Cave & The Bad Seeds Dig, Lazarus, Dig!!! (Anti)
3. TV On The Radio Dear Science (Interscope)
4. Q-Tip The Renaissance (Universal Motown)
5. Testament The Formation Of Damnation (Nuclear Blast)
6. Blitzen Trapper Furr (Sub Pop)
7. Bonnie "Prince" Billy Lay Down In The Light (Drag City)
8. The Coco B's The Coco B's (K Double)
9. The Walkmen You & Me (Gigantic)
10. Bon Iver For Emma, Forever Ago reissue (Jagjaguwar)
— Steve Forstneger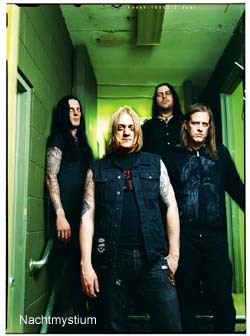 1. Nachtmystium Assassins: Black Meddle Volume 1 (Century Media)
2. Slim Cessna's Auto Club Cipher (Alternative Tentacles)
3. Rue Royale Rue Royale (self-released)
4. Grand Magus Iron Will (Candlelight)
5. Testament The Formation Of Damnation (Nuclear Blast)
6. Ryan Adams & The Cardinals Cardinology (Lost Highway)
7. TYR Land (Napalm)
8. Lair Of The Minotaur War Metal Battle Master (Southern Lord)
9. Amanda Palmer Who Killed Amanda Palmer (Roadrunner)
10. Twin Wrecks The Memory Suffer & Sell (self-released)
— Trevor Fisher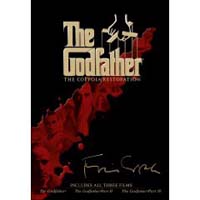 DVDS
1. The Godfather: The Coppola Restoration (Paramount)
2. Bottle Rocket (Criterion Collection)
3. Iron Man (Paramount)
4. There Will Be Blood (Paramount)
5. 12 Angry Men (50th Anniversary Edition) (MGM)
— Timothy Hiatt
LOCAL ALBUMS
1. Rhymefest/Mark Ronson Man In The Mirror (free download)
2. The Hood Internet The Hood Internet Vs. Chicago (free download)
3. Walter Meego Voyager (Gold)
4. Bottomless Pit Hammer Of The Gods (Comedy Minus One)
5. Rue Royale Rue Royale (self-released)
— Steve Forstneger
SONGS
1. "Love Story," Taylor Swift (Big Machine)
2. "Hot N Cold," Katy Perry (Capitol)
3. "Paper Planes," M.I.A. (Interscope)
4. "Sequestered in Memphis," The Hold Steady (Vagrant)
5. "Viva La Vida," Coldplay (Capitol)
6. "If I Were A Boy," Beyoncé (Columbia)
7. "Cath . . .," Death Cab for Cutie (Atlantic)
8. "Swagga Like Us," Jay-Z & T.I. feat. Kanye West & Lil Wayne (Roc-A-Fella)
9. "Bleeding Love," Leona Lewis (J)
10. "That's What You Get," Paramore (Fueled By Ramen)
— Michael Gallucci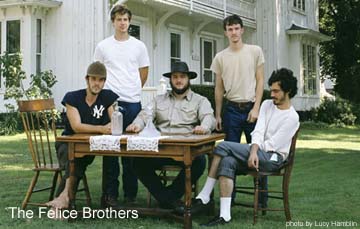 1. "Frankie's Gun," The Felice Brothers (Team Love)
2. "Electric Feel," MGMT (Columbia)
3. "Whatever You Like," T.I. (Atlantic)
4. "Modern Leper," Frightened Rabbit (Fat Cat)
6. "See These Bones," Nada Surf (Barsuk)
7. "I Will Not Sing A Hateful Song," Constantines (Arts & Crafts)
9. "We've Never Lied," Jessica Lea Mayfield (Polymer)
8. "Little Bit," Lykke Li (LL/EMI)
9. "El Paso," Jason Anderson (K)
10. "God + Suicide," Blitzen Trapper (Sub Pop)
— Steve Forstneger
REISSUES
New Order Power, Corruption, And Lies (Rhino)
Credence Clearwater Revival Green River (Fantasy)
The Replacements Tim (Rhino)
Nick Lowe Jesus Of Cool (Yep Roc)
R.E.M. Murmur (Universal)
U2 War (Island)
Sugar Minott Dancehall Classics Vol II (Wacky)
ZZ Top Eliminator (Rhino)
Flo & Eddie The Phlorescent Leech & Eddie (Manifesto)
Freddie McGregor Sings Jamaican Classics (VP)
— John Vernon
CONCERTS
1. A3C Hip Hop Festival – CW Midtown Complex,
Atlanta, March 20th – 22nd
2. Rock The Bells Festival – First Midwest Bank
Amphitheatre, July 19th
3. Redman and Method Man – House Of Blues,
October 25th
4. Q-Tip and The Cool Kids – House Of Blues,
December 6th
5. Sharon Jones And The Dap-Kings –
Vic, December 4th
6. People Under The Stairs, Flobots –
House Of Blues, August 20th
7. Seun Kuti & Egypt 80 – House Of Blues,
June 30th
8. Jamie Lidell – Abbey, June 4th
9. Dilated Peoples, Aceyalone, The Alchemist,
and 88 Keys – Double Door, June 20th
10. Akrobatik – Abbey, February 10th
— Max Herman
1. Suicidal Tendencies – House Of Blues, December 10th
2. The Tossers – Metro, March 14th
3. Superchrist & Nachtmystium – Red Line Tap, May 31st
4. Slim Cessna's Auto Club – Reggie's, June 6th
5. Amanda Palmer – Metro, December 3rd
— Trevor Fisher
Ben Folds — Congress, October 10th
Ben Folds' visit to the Congress Theater was surprisingly heavy on outtakes and alternate versions of cuts from his new record Way To Normal. Yet the performance demonstrated the piano man's devotion to even his seemingly throwaway ideas, and provided one hell of an ivory jamboree in the process.
Smashing Pumpkins — Aragon, December 7th
A stand-alone show at the Aragon finally delivered the show Pumpkins fans have waited eight long years for. An impassioned "Tonight, Tonight." Revered hits and focused, purposeful jams. And best of all, an ultra rare performance of Mellon Collie b-side "Medellia Of The Gray Skies."
Coheed And Cambria — Rivieria, October 31st
Centered around Coheed's No World For Tomorrow record, night four of the group's residency was easily the most versatile, epic, and massive. The band best mixed pathos with power on the crushing, mournful "The Road And The Damned," just one of many emotive moments of the evening.
Justice — Riviera, March 20th
French electro superstars Justice brought their sample-laden show to the Riviera back in March, unleashing a frenzied melange that knew no bounds. The culmination of which featured the duo mixing electro queen Uffie's vocals over Metallica's "Master Of Puppets." OMG WTF?!
Kill Hannah — Metro August 23rd
Chicago's Kill Hannah play every show with a sense of crucial, dire urgency, and August's Metro show was especially bombastic. The band returned home from the road to deliver a gushing love letter to the city, their scene, and of course, their fans.
Jaguar Love — Vic, August 22nd
While tourmates The Faint came out a shell of the former frenetic selves, openers and Blood Brothers/Pretty Girls Make Graves supergroup Jaguar Love hit the ground shrieking, never letting up for a show as unpredictable and manic as The Faint were underwhelming.
TV On The Radio — Riviera, October 22nd
TVOTR frontman Tunde Adebimpe bounced, bounded, and remained in perpetual, frenetic motion throughout his group's romp through the hippest neo-soul church on Earth. With a seemingly endless supply of musicians onstage, the outfit's performance was continually cacophonous and celebratory.
MGMT — Lollapalooza, August 2nd
Blog darlings MGMT surprised everyone at Lollapalooza this year when they unleashed a set mixing psychedelic grooves with Satriani-esque solos, delivering so much more than anyone expected out of the electro synth-rock sensations.
Kanye West — Lollapalooza, August 3rd
Sure, there was pomp, bombast, and granduer — this is Kanye West, after all. But the hometown superstar also revealed a sensitive side before a swarming, teeming crowd, as he sang out to his recently deceased mother on tracks like an extended version of Young Jeezy's "Put On." An early glimpse into the vulnerable Kanye front and center on 808's & Heartbreaks.
Local H — Beat Kitchen, May 7th – 13th
There may have been other residencies last year, but none so hard-earned and substantial as Local H's seven-night travel through their entire discography. From the gleaming sheen of Friday's Pack Up The Cats set to Saturday's "Hey Rita" incorporating LCD Soundsystem's "All My Friends," the week-long stint featured countless highlights and further cemented Local H as one of the city's hardest working and ever-evolving talents.
— Jamie de'Medici