NAMM show postgame
Despite the dodgy economy, there was no lack of enthusiasm or new musical instruments and sound/recording gear at the NAMM Show in Anaheim, California last month. Here are a few of our favorites.
VOX
Night Train Amplifier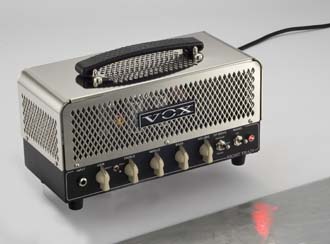 VOX Amplification's new NT15H Night Train, a 15-watt, all-tube, compact guitar amplifier is a collaboration between VOX's R&D team and acclaimed amp designer Tony Bruno. Powered by a pair of EL84 tubes and two 12AX7 preamp tubes, it's designed to let your guitar deliver clarity and dynamics from chiming cleans to warm overdrives. An onboard toggle switch lets users select between pentode or triode tube operation. In pentode mode, Night Train delivers a full 15 watts; in triode, the power is halved. The triode mode also relaxes the tube power stage, providing a bluesier, mellower tone. The front panel controls are user-friendly and offer vintage-style knobs for gain, volume, treble, middle, and bass. The preamp section features a mode switch, offering both bright and thick options. It comes with both 8-ohm and 16-ohm speaker jacks, making it a perfect match with most speaker cabinets. Retail price is $800; visit www.voxamps.com for more information.
Alesis
TapeLink USB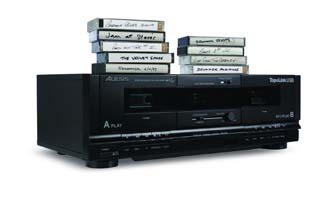 Alesis is the winner of the Why Didn't I Think Of That Award from this year's NAMM. Its new TapeLink USB is a dubbing and playback cassette deck that connects directly to a computer via a USB cable. It's designed to save old cassette recordings on hard disk or flash and burn them to CD or iPod. With Alesis' supplied software, musicians can transfer their old rehearsals/live performance tapes to a PC or Mac and clean them up afterward. EZ Tape Converter makes the transfer a simple process, and the onboard Audacity audio-editing software enables you to revise sound files while BIAS SoundSoap professional noise-reduction software removes hiss and hum. TapeLink USB connects to a computer with CD-quality 16-bit, 44.1-kHz audio. Like tape decks of old, it lets you choose between normal and high-speed dubbing, and it works with metal and CrO2 tapes. TapeLink USB goes for $299. Check out www.alesis.com for full details.
ULTIMATE SUPPORT
Custom Mic Stand Tops
One of the industry's largest mic-stand producers, Ultimate Support, has introduced a quirky selection of Custom Mic Stand Tops. "Your mic stand is the centerpiece of your performance," stated Ultimate Support CEO Mike Belitz in a recent press conference. "Why settle for a boring black tube when you can make a statement with a custom look at an affordable price?" The Mic Toppers come in several wild and silly ('60s shifter clutch, brass knuckle, hand grenade, black widow) and spiritual (Celtic cross) styles. These tops screw on-to any standard-sized mic stand, but fit best with a Ultimate Supp-ort model (naturally). Prices were not available at press time, but visit www.ultimatesupport.com to rethink your image.
News & Notes
Schaumburg-based Scratch Pad LLC has introduced a new scratch pad that protects dulcimers and lap guitars . . . Korg USA added Karma 50 software for the Korg M50 workstation for $199 . . . Peavey joined the amplifier custom-shop club with a new division of hand-built amplifiers . . . Marshall added new additions to their MB line of bass amps; prices start at $189.
– David Gedge