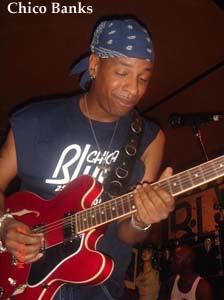 The Chicago blues community gathered on Wednesday, December 10th at the West Side's United Baptist Church to celebrate the life of one of their own. Guitarist/singer-songwriter Vernon "Chico" Banks, aged 46, passed away December 3rd of an apparent infection of a heart valve that was replaced more than a year ago.
The sanctuary was overflowing as fellow musicians, family, and friends came to pay respects to a young man taken too soon. Banks was a dynamic presence as both a man and musician (he was a master guitarist with a high-energy, deep-blues approach). As an urban bluesman, he brought soul, R&B, funk, and rock to the mix. Chico's father, Jesse Banks, is an accomplished guitar player and an early influence. He played with the renowned Mighty Clouds Of Joy and instilled in his son a lifelong love of gospel music. It is no wonder Banks brought that gospel fervor to his blues. His brother, Stanley Banks, is a noted keyboard player, who is recovering from an injury sustained in a van accident with Koko Taylor's Blues Machine.
Banks' personality was as electric as his music. He was often seen at B.L.U.E.S. or Kingston Mines, surrounded by friends and fans, laughing and holding court: People gravitated toward him. He cared passionately about the music and about the plight of his generation of local musicians, who are generally unrecognized by the industry.
With his rock-star good looks, incendiary guitar playing, and outgoing personality, Banks seemed poised to become the next big thing.
He was preparing to release his self-produced CD, Stray Kitty Kat, a heady mix of blues, soul, funk, rock, and R&B. In the autobiographical opening track, the funky "Sacrifice," Banks sings about his new direction – sacrificing the party life in order to get serious about music – "Now that I've got a lot older now, ain't no time for fooling around/I've got to sacrifice, in order to get myself right . . . I've been putting things off for so very long/I begin to think that's what's going on." Having struggled with heart problems, perhaps Banks sensed the urgency to step-up his career.
Banks' unthinkable passing will leave a deafening silence for years to come, but ultimately, it might signal a call to action for those of us you struggling to take the blues in a new direction. I know it has awakened a sense of urgency in me to get out there and start interviewing like mad in order to bring the blues focus back to Chicago, where it belongs. May he rest in peace.
Buddy Guy's Legends Celebrates 20th Anniversary: Five-time Grammy winner Buddy Guy will be celebrating the 20th anniversary of his world-famous club, Legends, this year, as he kicks off his annual residency January 8th. Guy will play 14 nights, four days a week, ending January 31st. As always, he'll have the best of the best opening for him, including the NuBlu Band on January 10th, which features Guy's daughter, vocalist Carlise Guy. Other openers include Larry McCray, Big James And The Chicago Playboys, Carl Weathersby, Billy Branch And The Sons Of Blues, and Lurrie Bell. Get your tickets early because these shows sell out fast, especially given the 20-year celebration factor.
When Guy opened Legends in the summer 1989, many wondered if it would be a fit successor to the Checker-board Lounge, the club he owned and made famous at 43rd and King Drive. As Buddy's stature in the music business grew, so did the club's reputation. Legends is world-renowned, and Buddy Guy is a bona fide superstar. This year alone, he was featured in the Martin Scorsese's Rolling Stones biopic, Shine A Light, appeared on the cover of Rolling Stone for the first time, and received the first annual Great Performer Of Illinois award. Guy also released a successful CD, Skin Deep. I'm sure if Muddy Waters were alive he would be proud of the struggling musician he took under his wing in 1957, feeding him bologna sandwiches and giving him sage advice about the business. Stay tuned for a February feature as the Entertainer and "Sweet Home" celebrate 20 years of Buddy Guy's Legends.
MY 2008 TOP TEN:
1. Buddy Guy, Skin Deep (Zomba/Silvertone)
2. Vince Agwada, Eyes Of The City (Rocketnoodle)
3. Elvin Bishop, The Blues Rolls On (Delta Groove)
4. B.B. King, One Kind Favor (Geffen)
5. Kenny Wayne, Can't Stop Now (Electro-Fi)
6. Kenny Neal, Let Life Flow (Blind Pig)
7. Donald And Geraldine Gay, Soulful Sounds (The Sirens)
8. Willie Smith, Born In Arkansas (Big Eye)
9. Various, And This Is Free: The Life And Times of Chicago's Legendary Maxwell Street (Shanachie)
10. Cedric Burnside & Lightnin' Malcolm, 2 Man Wrecking Crew (Delta Groove)
IN MEMORIAM: Odetta, Miriam Makeba, Nappy Brown, Levi Stubbs, Bill Coday, Phil Guy, Little Arthur Duncan, Pete Allen, Bo Diddley, Ike Turner, Dave Jefferson, Norman Whitfield, Purvis Jackson, Willie Cobbs, Buddy Miles, and Jeff Healey. Rest in peace, all.
– Beverly Zeldin-Palmer
Category: Columns, Monthly, Sweet Home