Yourself And The Air
Bottom Lounge, Chicago
Sunday, December 21, 2008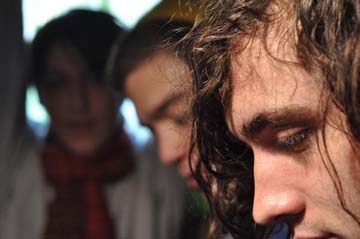 Forgive this Chicago band their name: Yourself And The Air clearly spent more time writing and arranging their stormy, agit-indie than worrying about what to call it.
On the Friend Of All Breeds EP (the quick followup to last year's Cold Outside Brings Heavy Thoughts To Think LP), the band's nervous quiver has become a fully fledged member. Don't be fooled by the cheery, collectivist spirit in "So You've Come To Mingle" — you don't meld The Cure, Les Savy Fav, No Knife, and Modest Mouse and come away with cream pie. No matter which pieces they move — darting counter-melodies, chugging barre chords, restrained half-time — Friend Of All Breeds has a worried heart, certain it has been mistreated and desperate to understand why.
Aktar Aktar, Pet Lions, and The Glide open.
— Steve Forstneger
Category: Stage Buzz, Weekly