Warren Zevon
Warren Zevon Expanded Set
(Rhino)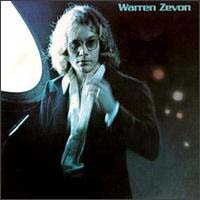 Introducing Warren Zevon always required clarification: He got a huge leg up from Jackson Browne, but . . . He hung out with the Mellow Mafia in '70s L.A., but . . . For all practical purposes, Warren Zevon is his debut album, but . . .
As time passes and periods in rock history bleed into one another, the contexts become less important than the merits of the actual work. At the time, Zevon's '76 successor to his '69 flop was able to have its cake and eat it, too, marrying the Novocain looseness of that music with sarcasm and antithetical character sketches. Where James Taylor made metaphorical his addictions on "Fire And Rain," Zevon tossed a junkie pimp into the gutter with "Carmelita." "Poor, Poor Pitiful Me" mocks his friends' confessional tunes, but itself fades because its hook is pure novelty. The last two tracks, "Join Me In L.A." and "Desperados Under The Eaves," depict an ancient Sunset Strip while opener "Frank And Jesse James" tries to out-Waylon Jennings the outlaw at his peak.
As a lyricist, Zevon arrived fully formed, as a second disc of demos and outtakes attests. But, in light of Randy Newman and Tom Waits, who created their own idioms to abide their outsiderness, Warren Zevon seems deserving of its secondary appeal.
6
— Steve Forstneger