Q-Tip, The Cool Kids
House Of Blues, Chicago
Saturday December 6, 2008
The Cool Kids and Q-Tip are not the most likely acts to tour together. While the Chicago-based duo, consisting of Mikey Rocks and Chuck Inglish, draw heavily from the golden era of hip-hop of which Q-Tip (of A Tribe Called Quest) was a key player, sonically the two acts don't have much in common. Q-Tip's latest effort, The Renaissance, represents a grown-up set of soul-tinged beats and rhymes whereas The Cool Kids and its debut EP, The Bake Sale (Chocolate Industries), is all about the bass and boasts. The 2K Sports Bounce Tour's job was to fuse the two.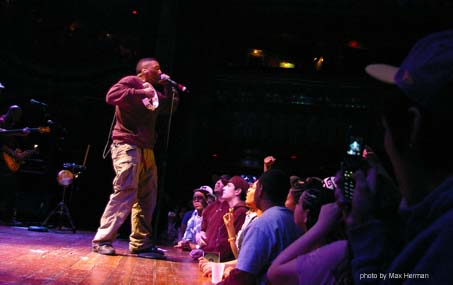 Some Cool Kids fans at the House of Blues show made it known, though, that they were only there to see one act. One vocal male crowd member exclaimed, "I don't think anybody here likes Q-Tip" and then proceeded to shout out, "Cool Kids!"
Of course that one particular guy wasn't quite on point. Sure not all Cool Kids fans stuck around for Q-Tip's entire set, but both acts received a lot of love from the audience. The low-tech thump of Cool Kids tracks like "What Up Man" and "Gold And A Pager" had the HOB floor literally bouncing as the front rows fell into mosh-pit intensity. Mikey and Chuck didn't rely on any gimmicks onstage — they simply performed their limited set list with precision and swagger.
After an extended break, Q-Tip and his band came out for a drastically different approach. This hip-hop vet probably had a set list, but given his spontaneity, it didn't seem like it. The MC/producer worked all possible angles, pulling out tambourines and even jumping into the crowd during his performance of "Life Is Better" (assisted by a taped Norah Jones). What was great to see about him sharing new material was he proved he's not just a legend of hip-hop's past – his current cuts in the vein of "Gettin' Up" still move listeners because he continues to take chances in the studio and onstage. But Q-Tip didn't want to leaves his longtime fans hanging as he performed A Tribe Called Quest favorite "Bonita Applebum" and others. Despite not having many similarities with The Cool Kids, his combined presence with the Chicago duo represents some of the most talked about hip-hop today.
— Max Herman
Category: Live Reviews, Weekly