Q-Tip, 2K Sports Bounce Tour
House Of Blues, Chicago
Saturday, December 6, 2008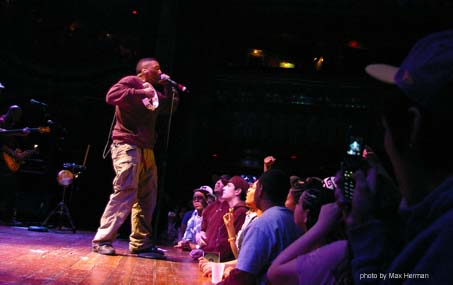 Some critics are trying to equate the timing of Q-Tip's long-awaited sophomore album to the first time we met him, as a member of A Tribe Called Quest, as if he's here to save hip-hop again. The Renaissance (Universal Motown) is pretty great.
But course-altering it ain't. On it, he merely responds to Arista's refusal to release his still-unissued Kamaal The Abstract (allegedly for being uncommercial) with a bass-driven body mover a la Amplified's "Vivrant Thing" and "Breathe And Stop."
Handling most of the production himself (with help from Mark Ronson and the not-very-dead J Dilla), Q-Tip has arranged each track so that his velvety rhymes can wend their ways through them. "Won't Trade" and "Manwomanboogie" somehow recall vintage Stevie Wonder: so mind-bogglingly jazzy you can't help dance, with the reassurance that what he's talking about is progressive, too. What is he on about? Some societal ills, infidelity that can be worked through, hip-hop, and even a soldier's love story — saving and salvation, really. And if Q-Tip has saved anything with his Renaissance, it's himself.
Cool Kids open.
— Steve Forstneger
Category: Stage Buzz, Weekly