Neil Young
Sugar Mountain: Live At Canterbury House 1968
(Reprise)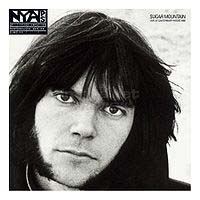 Contrary to popular belief, Neil Young was not born aged 45. His hair was always unkempt, however, and so was his presence, as this 40-year-old document attests.
Appearing: December 9th at Allstate Arena in Rosemont.
Only 23 in November 1968, Young was already a veteran of Buffalo Springfield. When he sat before this University Of Michigan audience it was three days before his self-titled, solo debut would hit stores and there's a slight nervousness and awkwardness in his banter — even in the hilarious recap of a former bookstore job. But when it comes to his performance, he's Neil Young, fully formed; lines like "I unlocked your mind, to see what I could see/if you guarantee the postage, I'll mail back the key" hit with alarming accuracy.
Part of Reprise's nascent "Neil Young Archive Performance Series," Sugar Mountain connects with ol' Neil on the cusp of becoming one of the most consistent and prolific songwriters in rock 'n' roll. (Reprise says this album will not be included in next year's 10-disc Neil Young Archives Vol. 1 (1963-1972), by the way.) Though armed with Buffalo hits ("Mr. Soul," "Expecting To Fly"), the insight Sugar Mountain provides is hearing his solo debut without Jack Nitzsche's arrangements. The meandering "Last Trip To Tulsa," though still a test, comes more alive as a concert ramble than an endless deep cut, and "The Loner" hardly suffers from lacking the album's crusty guitar work. He doesn't yet have the confidence that made Rust Never Sleeps an essential live album, but somehow that brashness would destroy the story of this recording. No Crazy Horse, no Crosby, Stills, or Nash, just a funny-looking Canadian kid playing some songs people were hearing for the first of a thousand times.
7
— Steve Forstneger