Monte Montgomery
Morse Theatre, Chicago
Friday, December 12, 2008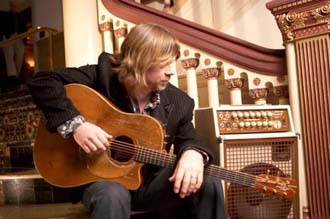 Here's why Monte Montgomery is playing at the newly reinvented Morse Theatre in front of sophisticated jazz connoisseurs instead of Joe's on Weed Street for drunk, "oh there's a band playing?" Lincoln Parkers: He can play the guitar like an S.O.B.
Montgomery, though, doesn't just want his virtuosic acoustic guitar playing to define his career: he stresses, via his press kit, he wants to be equally revered as a singer and songwriter. Guitar playing: check (Guitar Player named him one of the Top 50 Greatest Guitar Players Of All Time in 2005). Singing: check. The Texan, via Alabama, displays a rich and versatile voice on songs like "River" and "Company You Keep" from this year's self-titled album. Songwriting: eeeeh. At his best ("Can't Fool Everyone") Montgomery channels influences like Fleetwood Mac and Dire Straits, but at his worst ("Let's Go"), he sounds like a pop country version of Creed, and the only thing worse than Creed is pop country Creed. Still, his jaw-dropping cover of Jimi Hendrix's "Little Wing" (jazzier than Stevie Ray Vaughan's blues barn burner) should be worth the ticket price alone.
— Trevor Fisher
Category: Stage Buzz, Weekly