Longwave
Double Door, Chicago
Wednesday, December 17, 2008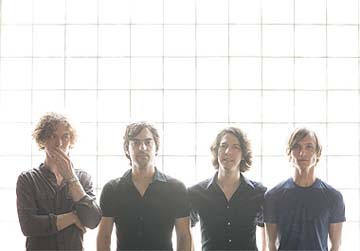 Other than local New York music papers, at IE we have the sneaking suspicion we're the only magazine to have had Longwave on our cover. Granted, they were one of four bands in a now-embarrassing "next big things" buzz article (hey, we got Interpol right), but there's a tacit affinity between us.
Though we've ignored Longwave, somewhat, since 2003, it doesn't appear we missed too much of the plot. This fall's Secrets Are Sinister (Original Signal) is like stepping back into The Strangest Things (RCA). Dave Fridmann sticks his head in to produce a pair of tracks, while Peter Katis, who co-produced the first Interpol EP (see how we tied this together?), handles the bulk of the work. Frontman Steve Schiltz obviously still admires My Bloody Valentine and Ride as much as U2, rarely missing the chance for his potential John Hughes anthems to intersect with a torrential guitargasm. The guitars spew more testosterone in opener "Sirens In The Deep Sea" than they did at any point on their sophomore semi-breakout, though "Satellites" and "Life Is Wrong" owe Loveless a rights fee or two. As long as Schiltz can pump out spiraling anthems like "No Direction," "The Devil And The Liar," and "Eyes Like Headlights," we'll proudly remember the choice we made five-and-a-half years ago.
The Silent Years and The Color Radio open.
— Steve Forstneger
Category: Stage Buzz, Weekly