Kuma's Doomfest
Double Door, Chicago
December 20-21, 2008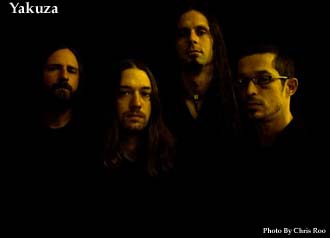 Kuma's Corner (great burgers, great beer, great heavy metal) is finally throwing the two-day metal extravaganza we've been promised for so many months. It definitely appears worth the wait.
Kuma's co-owner and operating manager Alex Posso first told Illinois Entertainer his plans for this bad boy back in July. At that point, it was supposed to go down in August, to coincide with the restaurant's three-year anniversary. Though there was a commemorative blow-out, the two-day neck-ache never developed . . . until now.
Considering all the proceeds are going to local charities (Kuma's is big into charity), Posso and co. managed to put together a scary-good lineup with Sweden's Kongh playing its first-ever U.S. show (Kuma's is flying it in for this one gig) as Saturday's headliner and local sax-wielding experimetalist Yakuza capping Sunday's finale. Yeah, Yakuza likely doesn't fit many people's definitions of "doom metal," but neither do many of the weekend's 19 bands, especially the stacked Sunday that includes Lair Of The Minotaur, Jungle Rot, Harpoon, and Plague Bringer, a two-man grindcore act that is probably the closest thing ever to the exact opposite of doom. But before accusing Kuma's of taking liberty with the term doom metal, consider Kongh (devastating), Battlefields, Samothrace, Rue, as well as hometowners The Atlas Moth, Indian, and Rabid Rabbit are all confirmed.
It may not all be doom metal, but it's definitely all Kuma's metal, which is good enough. Visit www.myspace.com/kumasdoomfest for more details.
— Trevor Fisher
Click
here to download Yakuza's "Egocide."
Click here to download Lair Of The Minotaur's "Hord Of Undead Vengeance."
Click
here to download Plague Bringer's "Hope And Slow Murder."
Category: Stage Buzz, Weekly